'A privilege to serve': Reflections on my leadership role post-9/11
As the newly installed IAFC president, I suddenly faced a new fire service focus on terrorism and preparedness
---
"Where were you when the world stopped turning?"
I was home in Evansville, getting ready to travel to the Delaware State Fire Chiefs Association conference.
At the time of impact in New York City, I was talking on the phone with Chief Richard Marinucci of Farmington Hills, Michigan. Rich told me to turn on the TV to see a big fire in New York City. I remarked, "How can a fire get that large during the daylight hours?"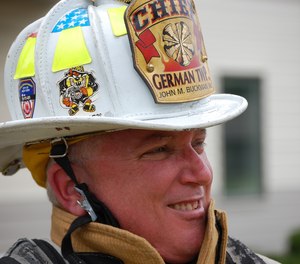 Just a couple minutes later, when a second plane crashed, this time into the South Tower, we knew this was not an accident.
Immediate IAFC actions
I had been installed as president of the International Association of Fire Chiefs (IAFC) just 24 days prior to 9/11. I had plans for my presidency, but everything had changed in an instant.
Rich had previously served as the president of the IAFC. He knew the unique position I was in. We talked about everything that was unfolding for a few more minutes. I decided I should contact the IAFC headquarters in Fairfax, Virginia, as we had by now learned of the attack on the Pentagon and the plane down in Pennsylvania.
We had been scheduled that day for our Hazardous Materials Committee meeting at headquarters. The committee was made up of about 10 subject-matter experts from across the country, with Chicago Deputy Chief of Special Operations John Eversole serving as the chair. We held a conference call to discuss options.
We discussed strategy. We discussed tactics. We discussed what the IAFC could do to assist the Arlington County (Virginia) Fire Department at the Pentagon, the FDNY in New York City and the departments near Shanksville, Pennsylvania. We quickly decided to deploy a couple committee members to FEMA headquarters to assist Joe Allbaugh, the FEMA director at the time. We also decided on another special deployment to New York City.
It's important to remember that this was before emergency support functions (ESFs) were employed. Incident management teams were not established at the emergency operations center (EOC).
We reached out to Chief Nick Russo of Hull, Massachusetts, to determine if he could form a team of qualified incident commanders to travel from the Boston area to New York City. We knew the capability of Chief Russo and Massachusetts fire chiefs because of the 1999 Worcester Cold Storage and Warehouse Co. fire where six firefighters had died. Chief Russo was part of the support team, which included members of the State Fire Chiefs Association, sent to the Worcester scene to help during the recovery of the firefighters.
Two years later, we called upon Russo to turn recovery efforts to New York. Russo later shared with me, "The ride to New York City was very quiet."
They arrived in New York City about 2:30 a.m. on September 12. The team got a couple hours of sleep and were then escorted to the site by police. The team noted that in the first 24 to 48 hours, there was so much help coming at them, they didn't know where to put everyone. Self-dispatching was a significant challenge that created additional problems for incident commanders.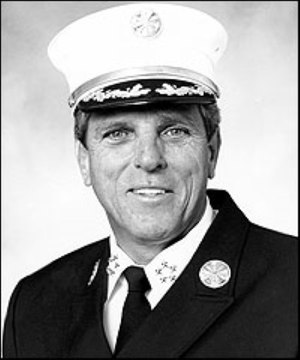 FDNY leadership
FDNY was facing an unprecedented moment in history. So many chief officers had been killed in the attack, even the fire chief, Pete Ganci.
I had met Chief Ganci at the IAFC's Fire-Rescue International conference just one month before the attacks. He had offered his personal assistance to me as I stepped into my role as IAFC president, and even gave me a set of cuff links and tie bar. He and Chief Billy Goldfeder were good friends, and Billy had sworn me in as president. Here was the fire chief of the largest fire department in the country offering assistance to a volunteer fire chief. I am humbled and honored to have known him, even for a very short period of time.
Fortunately, there were still leaders ready and able to serve. I had met FDNY Commissioner Thomas Von Essen at several IAFC events over the previous years. Commissioner Von Essen, who I now consider a friend, was a great leader during this turbulent time for FDNY, New York City and the world. 
24/7 support
Over the next couple days, IAFC headquarters stayed open for 24 hours. Executive Director Garry Briese was in Colorado, and because planes were grounded, he participated in conference calls.
Calls for assistance, supplies, staff, tools and apparatus were coming into headquarters from all over the country. Everyone wanted to help. However, there was not much of a need identified in the first couple days for any one of the three sites. It was simply too chaotic, particularly with the self-dispatching taking place. We tried to keep up, triage the calls, and note where a team could be of assistance.
Many, many conference calls were held over the next 10 days to discuss and develop a strategy for legislation and actions to support the already affected fire departments and protect the country from additional terrorist activity. 
President Bush proclaimed September 14, 2001, a National Day of Prayer and Remembrance, and a service was held at the Washington National Cathedral. The IAFC had 10 seats allocated, and several of our chiefs were seated three rows back from the president.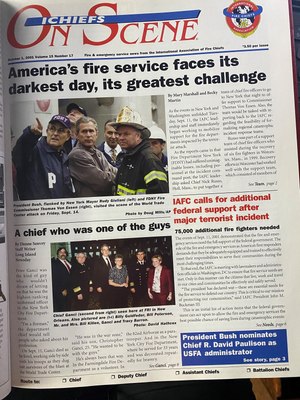 Legislative changes and priorities
The events of September 11 immediately refocused legislative priorities.
Within weeks of the attacks, the IAFC proposed the hiring of 75,000 additional firefighters. It was an idea I initially proposed to Briese and Legislative Director Alan Caldwell – an idea that would ultimately become the Staffing for Adequate Fire and Emergency Response (SAFER) program that we know today.
IAFF General President Harold Schaitberger got on board immediately, and Senator Chris Dodd sponsored the legislation. The fire service needed support from the federal government for the new role we were being thrust into by the terrorist act. Demands would be placed on all fire departments large and small, urban and rural, volunteer and career, to be adequately equipped and trained to meet these new responsibilities.
The IAFC, IAFF and National Volunteer Fire Council (NVFC) ultimately became great partners in speaking with one voice on behalf of the needs of the fire service. 
Additional legislative priorities identified:
NIOSH complete certification of chem/bio masks
Full funding for the Assistance to Firefighters Grants Program
USAR program expansion/upgrades
USFA reorganization 
Metropolitan medical response system increases
Communications spectrum expansion and interoperability
FEMA serving as a single point of contact for terrorism preparedness
Increases to funding for counterterrorism programs
Enhancements to hazmat response capability
Personal and political shifts in focus
It was an interesting time for me, as I was thrust into an arena that I really had never imagined. The next six months of my life included numerous visits to the White House and Congress, meetings with legislators and testifying before committee hearings. 
In October 2001, I testified before the Senate Commerce Subcommittee on Science, Technology and Space. My message, titled "America's fire and emergency services must reassess how we prepare, how we train, how we are equipped, how we respond, what strategies we implement and what tactics we use," focused on respiratory protection, staffing, grant programs, USAR command teams, communications, hazardous materials and other topics critical to the fire service in the wake of the attacks. I also appeared on ABC News' "Nightline" program to discuss first responder needs.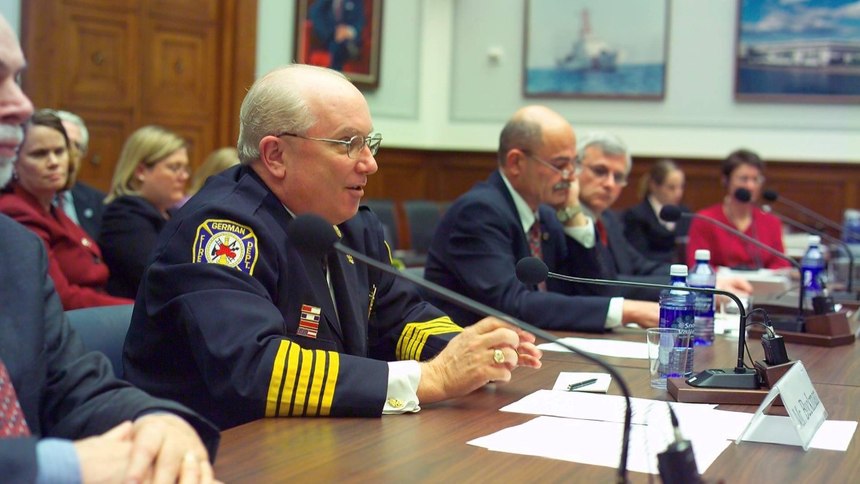 Later that month, President George W. Bush and First Lady Laura Bush attended the National Fallen Firefighters Memorial Weekend to honor our fallen firefighters.
In November 2002, President Bush signed into law the Homeland Security Act, creating the Department of Homeland Security. Charged with the task of coordinating and unifying national homeland security efforts, the agency opened its doors on March 1, 2003, as a stand-alone, Cabinet-level department. 
One of the many highlights of my tenure as IAFC president occurred was being invited to the White House press conference about the formation of the DHS in Washington, D.C. I was lucky enough to stand right behind President George W. Bush during the press conference. 
The formation of DHS was a significant reorganization. The DHS secretary became a member of the president's cabinet, with the appointment requiring Senate approval.
Around this time, I was appointed to the Homeland Security Task Force Presidential Policy Directive/PPD-8: National Preparedness. PPD-8 is aimed at strengthening the security and resilience of the United States through systematic preparation for the threats that pose the greatest risk to the security of the nation, including acts of terrorism, cyber-attacks, pandemics and catastrophic natural disasters. This task force converted the Federal Response Plan to the National Response Plan and the Target Capabilities List as well the first National Incident Management System (NIMS), all of which are still used today after multiple updates. The development of the NIMS was intense, as there was EMA, law enforcement as well as EMS and fire representation.
The task force also developed the idea for the fusion centers, which are operating in most states today. Fusion centers are state-owned and operated centers that serve as focal points in states and major urban areas for the receipt, analysis, gathering and sharing of threat-related information among State, Local, Tribal and Territorial (SLTT), federal and private sector partners.
In December, the IAFC coordinated a donation from the Japanese Fire Chiefs Association in the amount of $500,000 to benefit the National Fallen Firefighters Foundation.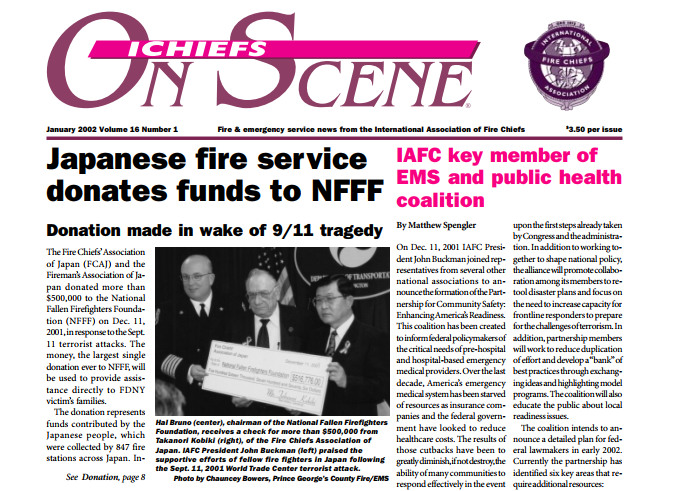 In February 2002, Schaitberger and I testified before the Senate Appropriations Subcommittee on Veterans Affairs, Housing and Urban Development, and Independent Agencies, which has jurisdiction over FEMA and USFA. Three key points: 1. Local fire departments are the only organization with personnel who are trained, equipped and sworn to respond within minutes to all incidents, natural or manmade, that threaten the American homeland; 2. The local fire department role in natural or manmade disasters with national implications has been made crystal clear; and 3. Use the AFG program to distribute additional funding for new programs for terrorism preparedness.
Humbling moments
During my tenure as IAFC president, I had the opportunity to visit the Pentagon site near the breach of the building where the plane crashed. It was very humbling to stand near the hole created by the plane, realizing that the passengers on the plane knew they going down.
I also had the opportunity on several occasions to visit Ground Zero in New York City. There are no words that can adequately describe what it was like to go down below street level, thinking about those firefighters who worked so hard to find their fellow firefighters.
Never forget the lessons and the sacrifices
It's been 20 years since 9/11. The fire service has not forgotten our duty to protect our citizens. Our terrorism focus may have evolved over the past two decades, but we remain committed to training and education on a variety of extreme events, including active-shooter events.
Today's firefighters are expected to solve any and all problems faced by our citizens – and violence and terrorism remain a huge risk for all communities. Firefighters must be acutely aware of the risks associated with responding to a variety of events, all of which pose a threat to our personal safety and the citizen safety we are sworn to protect.
As I reflect on the 20th anniversary of September 11, 2001, I consider what a privilege it was to serve as the president of the IAFC during such a significant moment in our history. The experience afforded to me by this position enriched me personally and professionally, and I will never forget the sacrifices made by our public safety personnel in serving and protecting our citizens across the United States of America. I am proud to observe how the fire service has adapted to the changing role of the firefighter, expanding our role in the delivery of emergency services and continuing to impact the quality of life for our citizens on a daily basis.