Ind. fire chief suspended after FF's drunk driving arrest releases statement
Cedar Lake Fire Chief Todd Wilkening said he was suspended for failing to discipline the firefighter and notify town officials about the incident
---
Mary Freda
The Times, Munster, Ind.
CEDAR LAKE, Ind. — After serving a week-long suspension, Cedar Lake Fire Chief Todd Wilkening told town officials and residents he is ready to "move on and move forward."
Wilkening issued the statement during a Tuesday Cedar Lake Town Council meeting, during which he clarified the specifics of his suspension after a Times report detailed an interaction Wilkening had at a local police agency after a firefighter was arrested on drunken driving charges.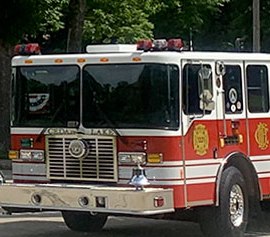 Wilkening did not return the Times request for comment for the story, which he said he would have changed in hindsight.
"The suspension was not clearly identified in the media, and for the record I was suspended for failure to notify the Public Safety Board of an incident involving a volunteer, as well as not disciplining the volunteer," Wilkening said Tuesday.
"Like I said, in hindsight I should have given a statement to the media. I apologize to the media for that because I know better because I've dealt with the media for a very long time, and I've had a lot of good interactions and good stories go to the media. If that ever happened again, I would definitely change that."
The longtime fire chief thanked the department, including firefighters, chief staff and officers, for stepping up in his absence.
"A lot of things happened, a lot of things (were) going on, and I really appreciate the professionalism they showed and our department showed during this process," Wilkening said.
"I did not accept the fact that I was suspended for the reasons I was, but I served that time, and we're going to move on and move forward. I did have a lot of time to reflect and put some things into perspective, and going to change some things in the future."
The suspension, which was effective March 29, came after the Cedar Lake Town Council and Board of Safety were made aware of an incident that occurred in January involving a volunteer firefighter.
Earlier this year, Cedar Lake volunteer firefighter Jeremy Kuiper was arrested and pleaded guilty to reckless driving after he was pulled over by a Lowell police officer for running a red light and later was found to be intoxicated, authorities allege.
According to the police report, Wilkening later arrived at the Lowell Police Department with another man and requested information "as to why a Lowell Police Department officer was working a grant in Cedar Lake and arresting 'my guys.'"
The report also states Wilkening said he would have liked for Kuiper to have been given a "professional courtesy."
Town Council President Randy Niemeyer previously told The Times in an email the police report speaks for itself, and clarified when asked Tuesday Wilkening's suspension was related to the "totality" of the report.
"His suspension was related, but since we did not have the luxury of seeing a video or hearing a recording, it was difficult to tell what the context of the entire discussion was at the Lowell Police Department," Niemeyer said.
Niemeyer told The Times Tuesday Wilkening gave town officials a different account of what happened at the police agency than what was outlined in the police report.
"We had no reason to believe that he was untruthful to us, or that the officer in Lowell was untruthful because there was no context to the word ... 'professional courtesy.' It could mean a number of things," the councilman said.
___
(c)2021 The Times (Munster, Ind.)
McClatchy-Tribune News Service