Baltimore Fire Union: Medical examiner's office delaying death benefits for fallen FFs' families
The families of the victims have received death certificates, but they also need autopsy reports or toxicology tests to get benefits
---
By Leila Merrill
BALTIMORE — The Baltimore City Fire Officers Association says that the Maryland Office of the Chief Medical Examiner is delaying death benefits owed to the families of three firefighters who died in a rowhouse fire in January.
According to WBALTV, the families of the victims — Lt. Paul Butrim, Lt. Kelsey Sadler and EMT-Firefighter Kenny Lacayo — have received death certificates, but they need autopsy reports or toxicology tests, too, to process pension benefits. And the medical examiner's office has not provided those.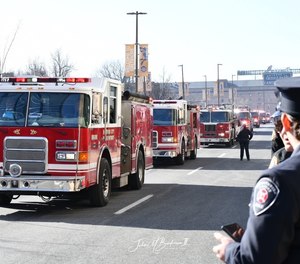 The state medical examiner's office ruled that the cause of death was homicide because the fire was set intentionally. WBALTV reported that the homicide ruling is the reason the documents aren't ready.
The Maryland Department of Health sent a statement to WBALTV reporters saying: "This investigation is still active and OCME hopes to resolve this investigation in the near future as it finishes collecting necessary information from external sources."
"It unnecessarily drags out the bereavement process," said Josh Fannon, president of the Baltimore Fire Officers Association IAFF Local 964. "I feel the families are owed an explanation as to why it is taking so long, and whatever the reason is, regardless of the reason, let's just get it done."