Residents demand apology from Okla. city manager for comments about FFs
The city manager of Chickasha, Okla. was criticized for his comments following a proposal to cut $1 million from the city's fire and police departments
---
Jessica Lane
The Express-Star, Chickasha, Okla.
CHICKASHA, Okla. — With the Chickasha City Council meetings once again taking place at City Hall, citizen comments resumed on Monday evening.
Two residents said they are unhappy with comments that city manager, John Noblitt, had made during a virtual meeting on May 4.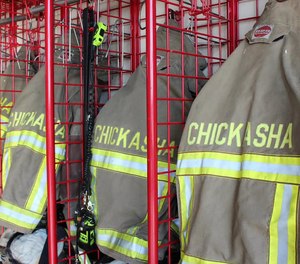 Both residents said the city manager referred to local firefighters as bullies.
During the virtual meeting on May 4, there was a discussion of the $350,000 economic development tax to be redistributed as a $50 stimulus payment to Chickasha households.
Concern was raised about the timing of the stimulus, with the recent $1 million budget cut proposals to Chickasha's police and fire departments.
Noblitt said the economic development funds could not be used to keep fire or police personnel.
He said the fire union had been "raising cain" about the city's financials since the proposed budget cuts.
"I do not think you can let the fire department bully you, the union bully you, on this issue," Noblitt said.
At the meeting on May 18, resident, Gena Downey, asked the city manager and the city council to apologize to firefighters as well as the residents of Chickasha. She said the city manager's words do not represent the feelings of the community.
Residents are allowed three minutes to comment. Though she finished speaking after about two minutes, Downey opted to stand at the podium for the remainder of the allotted time.
Resident, Kirstie Morton also spoke to the council on the issue. Morton said she was disappointed in the manager's comments. Moreover, she said she appreciated the two council members who voted against the economic stimulus for Chickasha, as there is no guarantee the $50 per household will be spent in Chickasha.
Resident Tory Wise also spoke to the council regarding the economic stimulus, thanking those who voted to distribute the tax back to residents.
"We appreciate it. We know what to do with it."
———
©2020 The Express-Star (Chickasha, Okla.)
McClatchy-Tribune News Service