14 Wash. wildland FFs quarantined after 1 tests positive for COVID-19
The firefighters had served in close quarters together while battling a 2,000-acre blaze in northeast Washington
---
Brandon Block
The Olympian (Olympia, Wash.)
OLYMPIA, Wash. — Fourteen firefighters are being quarantined after a firefighter tested positive for COVID-19, the state Department of Natural Resources (DNR) says.
The 14 firefighters were serving in close quarters with the individual, who was asymptomatic, while responding to a wildfire near Tonasket that burned nearly 2,000 acres before being contained on Aug. 2.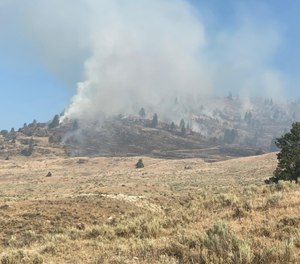 "Unfortunately, despite all possible precautions, firefighters do congregate and work in close quarters when responding to wildfires," said Hilary Franz, Commissioner of Public Lands.
This is the third case of a DNR wildland firefighter testing positive for COVID-19.
While this incident does not pose an immediate threat to the DNR's firefighting capacity, Franz urged residents to do their part to both slow the spread of the virus and avoid starting fires.
"Each time our firefighters respond to a fire, they are at risk of COVID-19 spreading amongst them," Franz said. "While the exposure to others was limited in the cases so far, it could be far worse next time."
Franz issued a statewide burn ban on July 27, which prohibits outdoor burning on all forest lands under DNR fire protection.
The DNR responded to 206 fires in July, the most of any month this year. So far in August there have been 67. The most common cause is debris burning, according to the DNR Fire Dashboard on the agency's website.
———
©2020 The Olympian (Olympia, Wash.)
McClatchy-Tribune News Service