California's wildfire disaster declaration, initially denied, now approved by Trump
The request outlined the financial impact of six massive wildfires that have ravaged the state in recent months
---
UPDATE: Oct. 16, 2:47 p.m. PST
California Gov. Gavin Newsom confirmed that President Donald Trump has reversed course, now approving California's request for a presidential disaster declaration to help combat the state's record-setting wildfires.
CNN reported that the presidential major disaster declaration was initially rejected because, according to the White House, it was "not supported by the relevant data."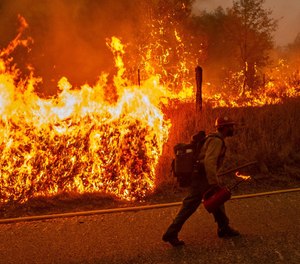 White House deputy press secretary Judd Deere said the governor and House Minority Leader Kevin McCarthy spoke and presented a convincing case, plus "additional on-the-ground perspective for reconsideration leading the President to approve the declaration."
UPDATE: Oct. 16, 11:53 p.m. PST 
House of Representatives Minority Leader Kevin McCarthy (R-Calif.) reportedly told Rep. Tom McClintock (R-Calif.)  that President Trump has committed to reversing the decision to deny the request for a federal disaster declaration for the recent California fires. "The Presidential Disaster Declaration is imminent and help is on the way," McClintock tweeted. 
Check back for additional information as we seek to confirm this news.
ORIGINAL REPORT
By Janelle Foskett
WASHINGTON, D.C. — The Trump administration has rejected California's disaster declaration request related to six massive wildfires that have ravaged the state in recent months.
Brian Ferguson, a spokesperson for the Governor's Office of Emergency Services, confirmed the news to CNN on Thursday.
On Sept. 28, California Gov. Gavin Newsom requested financial aid from the federal government through a Major Presidential Disaster Declaration. The request outlined the financial impact of several early September fires that ultimately burned hundreds of thousands of acres across the state, including the Creek Fire, which is now the single largest wildfire in state history. The August Complex, which started in mid-August and is still burning, is the state's largest-ever complex fire.
Newsom detailed infrastructure damage estimates that exceeded $229 million, writing, "federal assistance is critical to support physical and economic recovery of California and its communities. … The longer it takes for California and its communities to recover, the more severe, devastating, and irreversible the economic impacts will be," CNN reported.
The state plans to appeal the request denial.
Consuming 322,000 acres of the mountains northeast of Fresno, the Creek Fire is the largest individual wildfire in California history. But on the evening of Sept. 4, 2020, it was just a small blaze in Big Creek Canyon.