Firefighter pilot dies in helicopter crash battling Ariz. wildfire
Airwest Helicopters Pilot Bryan Boatman, 37, was killed in the crash while battling the Polles Fire on Tuesday
---
By Laura French
GILA COUNTY, Ariz. — A firefighter pilot battling an Arizona wildfire was killed in a helicopter crash Tuesday afternoon. 
Airwest Helicopters Pilot Bryan Boatman, 37, was supporting crews on the ground on the northern side of Polles Fire when his aircraft crashed, according to AZ Central. Boatman was the only person on board the helicopter at the time of the crash.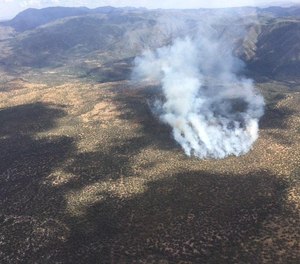 Officials did not release any information about what may have caused the crash, which occurred just north of the blaze. 
Boatman came from a family of firefighters, including his father, who retired from an Arizona department, according to Engineer-Firefighter Stacy Figueroa, the public information officer for the Pine-Strawberry Fire District. 
Boatman is survived by his wife and an 8-year-old child, Gila County Sheriff J. Adam Shepherd said at a news conference Tuesday night. 
"This tragic loss is a reminder of the ever-present dangers faced by those battling wildfires," Arizona Gov. Doug Ducey said in a statement. "As a helicopter pilot, Bryan Boatman was carrying out a service to the people of Arizona alongside the men and women fighting the Polles Fire. He performed his duty with honor and bravery, and it will be remembered as such by our state." 
Ducey ordered flags to fly at half-staff on Wednesday in honor of the fallen pilot. 
The Polles Fire has burned nearly 600 acres in the Mazatzal Wilderness area since July 3. About 360 firefighters are battling the blaze, according to Incident Commander John Pierson with Southwest Incident Management Area Team 2.