5 firefighters, 3 state troopers injured in a multiple vehicle crash in NJ
The crash caused significant damage to an ambulance, fire truck and state police SUVs
---
By News Staff 
ORANGE COUNTY, N.J.  First responders are recovering after a dump truck hit two state troopers standing outside their vehicle, which started a chain reaction causing a multiple-vehicle crash that injured five firefighters and three state troopers.
First responders were at a vehicle crash scene on a New Jersey highway when a dump truck struck two troopers outside their vehicle, NJ.com reported. The crash started a chain reaction that left significant damage to an ambulance, fire truck and state police SUVs.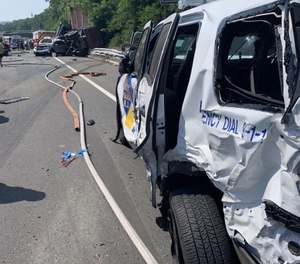 Five firefighters were also injured in the crash and taken to an area hospital. Four were released after being treated for minor injuries, and officials reported the fifth firefighter is still hospitalized, but conscious.
"Our West Orange Locals had a tough day. I am happy to let you know all firefighters and State Troopers are alive," Ed Donnelly, president of the New Jersey Firefighters Mutual Benevolent Association, said in a statement to its members. "Some are in very serious condition and will require a long road to recovery."
Brothers and Sisters, Our West Orange Locals has had a tough day. I am happy to let you know all Firefighters and State...

Posted by NJ FMBA on Tuesday, July 30, 2019