Off-duty Ga. EMT rescues several people from burning truck
Floyd Medical Center EMT Desiree Hartmann was speaking with dispatchers while following a wrong-way driver when she witnessed the head-on collision
---
By Laura French
FLOYD COUNTY, Ga. — An off-duty Georgia EMT rescued several people from a burning vehicle last month after witnessing a head-on crash. 
Floyd Medical Center EMT Desiree Hartmann was driving home with her children on March 7 when her car was nearly struck by a wrong-way driver, according to hospital. After avoiding a collision, Hartmann called 911 and then turned around and followed the vehicle, concerned about the safety of other motorists.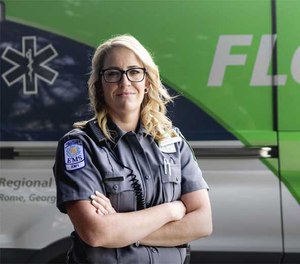 While still on the phone with dispatchers, Hartmann witnessed the vehicle collide head-on with a pickup truck at full speed, causing the pickup to burst into flames. 
Hartmann pulled over to where her children would be safe and then ran back to the vehicles to check on the occupants. The driver of the car that was going the wrong way was unresponsive but breathing and had a strong pulse. Hartmann then went to the burning pickup and found four victims inside.
Hartmann and another good Samaritan escorted the pickup driver away from the flames then helped another occupant out before lifting a third occupant out of the truck and carrying her to safety. A nurse assistant who also came upon the scene helped care for the rescued patients.
Police officers arrived and Hartmann told them there was one more person in the burning vehicle. Floyd County Police Officer Blake Puckett used a pocket knife to cut the final trapped passenger out of her seatbelt then worked with another good Samaritan to get her away from the truck as flames started to reach the truck's cab.
In addition to helping rescue the vehicle occupants, Hartmann also relayed detailed information to dispatchers, ensuring enough resources were brought to the scene to care for the patients, hospital officials said.
The mother of one of the rescued passengers expressed her gratitude for Hartmann, on-duty first responders and other good Samaritans in a Facebook post. 
"What y'all did that night was way past job and training. The choices you made that night show the people y'all really are inside. Truly caring, unselfish people, loving people!" Christy Wright wrote. "Like-each and everyone of y'all risked your life to save my baby! And her very best friends lives too! Because of the [role] each of you played my baby will get to graduate!!!"