'Get in there!': Reflections on a firefighter's battle cry and the need to redefine courage
The fire service has changed: There are more fires to fight and wounds to heal than the ones on the outside
---
At my father's funeral 11 years ago, hundreds of people representing all aspects of his rich and storied life came to bear witness to his efficacy on this earth. By far, though, people representing fire and emergency services outnumbered the rest of us – people like me who just called him dad, not chief.
So many people told stories of how my dad impacted their career, their dreams and even their family life. These reflections on his legendary life were comforting and helped to fill the hole in my heart.
The most common theme in those stories was how he built courage among newbies in the fire service.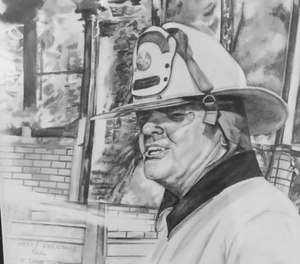 My dad never was one to mince words, and his passion often got the best of him when he was trying to make a point. The night of his wake, I understood the value of those attributes to the young trainees under his wings. Every story I heard was different, but they all contained the words, "Get in there! What are you afraid of?" That must have been my dad's battle cry when he noticed the hesitancy of a newbie on the fireground.
'Family life was a place he could suspend his empathy'
That attribute was also evidence in his parenting style, yet not in such a brazen manner. When I'd cower during a ferocious thunderstorm, my dad would ask me, "What are you afraid of? What's the worst thing that could happen?" And any firefighter family member can relate to this example: When I cried over a scraped a knee or complained of a stomachache, the response was usually, "What's the big deal? That's nothing."
I now understand that was my dad's acquired capacity for pain. In his mind, what was a stubbed toe compared to a compound fracture? There shouldn't be any reason to cry. He wasn't apathetic. He was just overexposed, and family life was a place he could suspend his empathy.
What seemed unfair at the time did me well in life. I learned gratitude, perspective and courage.
'Quite the legacy'
People in the long line of mourners also spoke of life lessons they received from my dad. His battle cry "Get in there!" built grit and fortitude. It broke down barriers of fear and doubt, allowing young firefighters to see that they did indeed have the skills and knowledge to do the job. It built confidence and polished skills that kept them safe and healthy throughout their careers while fulfilling the mission. He helped to build the altruistic, highly skilled firefighters and medics of this generation who will pass on their wisdom to the next.
Quite the legacy, even factoring in my bias.
'It's time to upgrade his methods'
But it's not my daddy's fire service anymore. There are more fires to fight and wounds to heal than the ones on the outside. I wonder what he would say to the people he trained about facing a fire that burns within or acute emotional pain. I wonder if he could imagine the risk of internal strife created by changes in the nature of the job, stressors from doing more with less, sleep deprivation, the severity and diversity of calls for service, demands from training protocols or mandates, and the potential for dysfunction in public safety families brought on by erratic schedules and overstimulated amygdalae.
My father's unorthodox ways worked well in those days. It built the courage needed to face dangers in fire and emergency services of that time period. Now it's time to upgrade his methods for use in today's fire and emergency services. And it's time to redefine courage to include current demands of the industry and defeat the traditional perception of weakness eschewed throughout fire and EMS.
A renewed definition
A renewed definition must include the profound step of acknowledging that something is not right.
That feeling in your gut that never goes away or is never satisfied.
A fear that stops you from doing something, alters your behavior, or consumes you.
Seeking control over everything.
The constant battle between reality and your perception that is fueled by stigma.
Staying overly busy to avoid dealing with your thoughts.
A renewed definition must include identifying the symptoms of that unsettled feeling that exacerbates fear or stress.
Unhealthy behaviors such as overworking, excessive spending, substance use, overeating, over-exercising, or pursuing unachievable goals.
Broken relationships especially with those who are the first-line of support.
Paranoia or overwhelming distrust of everything and everyone.
Justifying behavior and dismissing those who express concern.
A renewed definition of courage must include acting upon the available resources and opportunities to build resilience and sustain good mental health.
Getting an assessment (self, peer, loved one, professional, online, in-person).
Accepting an offer of assistance to share the load during a difficult time.
Trusting vetted resources and culturally competent professional help that are provided to you.
Busting stigma by viewing emotional and physical health as equal.
Rising above the fear of shame to discover that the only real shame is missing out on life.
In the end, it looks something like this: Courage: A life-saving step of acknowledging that poor mental health is present, identifying symptoms that negatively impact daily living, and taking steps to reverse the process.
'The fear is real but will not last forever'
Would my dad approve of this new definition of courage? I think so. The very reason he was so brazen about building confidence with newbies was because he knew it was scary. He had enough experience, though, to see the benefits of taking calculated risks after sufficient training. He understood their fear and understood their potential. I believe he would take the same approach with someone afraid of seeking help to battle the fire that burns within or attend to the wounds that consume them. He would want them to trust their instinct, to value themselves and their gifts, to take risks, and wisely navigate the uncertainty so they come out of the fear stronger and healthier. He'd want them to know that the fear is real but will not last forever and that they are not alone in the fight.
Sadly, he also had enough experience with that fear. He was more than an extraordinary firefighter and chief; he was a father who knew the breadth and depth of pain from losing a child. His oldest son, his namesake and a veteran firefighter, died by suicide. In a heartbeat, our legacy fire service family was forced to address a new type of peril on the job.
As a sibling who lost someone to the unmanageable pain of a manageable mental health condition and as the daughter of a compassionate public servant, I am compelled to change the trajectory of poor mental health and a path to suicide within fire and EMS. I cannot do anything about my brother's death, but I can do so much to live out my father's legacy, ensuring that no one else faces a paralyzing fear and chooses a path toward death.
It is time to focus our efforts on safety, health and well-being in all aspects of the job that will sustain firefighters and medics during fearful, uncertain experiences. It is time to revisit what protective factors exist that keep them physically safe and view them through the lens of mental health. Teaching them that the fear is temporary and often not what they perceive can be life-saving. Equipping them with appropriate tools to fight a battle within is just as important as state-of-the art equipment.
'It's time'
It's also time to redefine your own definition of courage. Fighting back tears is not strength. Refusing to experience emotion is not willpower. Accepting an outstretched hand of support is not weakness. These are all characteristic of a courageous public servant with a healthy, hopeful and altruistic heart.
It's time. "Get in there. What are you afraid of?"