Pa. council decertifies volunteer fire company again, months after its reinstatement
The vote came as a shock to the Gill Hall Volunteer Fire Co., which was preparing to get back into the county's dispatch system last week
---
Michael DiVittorio
The Tribune-Review, Greensburg
JEFFERSON HILLS, Pa. — Gill Hall Volunteer Fire Co. hopes to be dispatched to calls again starting Friday were dashed two days prior by a Jefferson Hills Council vote to decertify the company.
Council voted 5-2 Wednesday night to no longer recognize the 72-year-old, 20-member department as a borough fire company after a lengthy back-and-forth about Gill Hall's future both that evening and Monday night.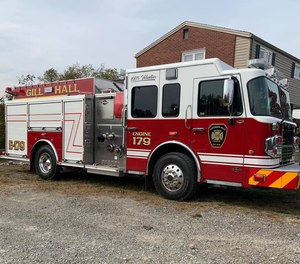 Councilman Keith Reynolds and Councilwoman Nicole Ruscitto dissented.
Ruscitto said she thought Gill Hall was still on probation and council did not need to take any action, while Reynolds argued for its return to dispatch.
"If they were a recognized fire hall in our community, they would have had to give them a portion of foreign fire tax money to Gill Hall," Reynolds said after the meeting.
The next motion made Wednesday after Gill Hall's decertification was to approve the distribution of more than $66,000 in Pennsylvania Foreign Fire Insurance funds to Jefferson Hills Fire Rescue Relief Association.
JHFR is the merged company of Jefferson 885 and Floreffe volunteer fire companies.
Gill Hall was dropped by the borough in January 2019. However, the decertification vote didn't dissolve the department, which owns its fire hall, truck and other equipment.
Gill Hall was reinstated as a borough fire company on a probationary basis in April, but was not placed back on Allegheny County emergency dispatching "run cards." Run cards include information for dispatchers so they know what departments to call out during an emergency.
Allegheny County was prepared to resume Gill Hall dispatch on Friday, but needed final approval from council despite receiving a letter from Jefferson Hills Mayor Janice Cmar authorizing the fire hall's return.
Borough officials have questioned the legality of the mayor's letter.
Council voted Wednesday to name Solicitor Deron Gabriel and council President Karen Bucy as the borough's official representatives authorized to communicate with top county emergency management officials on all issues pertaining to 911 and fire department run cards.
Gill Hall Vice President Brian Hutson said he was "surprised" and "dumbfounded" with the decertification, and that his crews were ready to go this weekend.
"It's unbelievable," Hutson said after the meeting. "I don't know where we go from here. I know the residents in the Gill Hall area, at least the ones that I'm seeing, are (angry). We're going to try to keep fighting.
"We were going through our radio equipment making sure it works and waiting for the county to send out a test page to verify everything works. We were 100% ready (to be dispatched)."
Councilman Francis Sockman, who made the motion to decertify Gill Hall, said if the fire company wanted to be reinstated it would have to work things out with the borough's fire liaisons.
Those members are Reynolds, Bucy and Councilwoman Vickie Ielase. Councilwoman Melissa Steffey was on that committee, but resigned Wednesday night and was replaced by Reynolds.
"I certainly hope that we can get this worked out so that Gill Hall can become an active fire company in this community," Sockman said. "Everyone wants to see that. Given the proper attention to details, I think it can be done.
"I've been on this council for five years, and four of the five years we've done nothing but talk about fire halls. It's time we pick up the pieces and move on and get it done with."
Bucy said she would like to see a new probationary plan for Gill Hall ready for review by the Dec. 8 council meeting.
Wednesday's meeting was a continuation of a 6-plus hour meeting Monday night, during with Gill Hall discussion took up more than half the time.
Reynolds had put up a white dry erase board at the start of Wednesday's session and asked people to offer pros and cons about reinstating Gill Hall.
Resident Pete Doel said he believes there would be faster response time to emergencies with having trained firefighters in the neighborhood.
Other pros given included Gill Hall adding no additional cost to the borough for reinstatement, the station's 72 years of service and its seven new members.
Steffey said her cons were lack of communication, and lack of confidence in leadership and paperwork.
"It's an all-around display of unorganization," Steffey said.
Ielase echoed Steffey's comments, and added a lack of transparency and not turning over information to the borough in a timely manner when asked.
Gill Hall's decertification also puts the future of seven new members in jeopardy.
Hutson said the recruits have signed up for January classes at the Allegheny County Fire Academy, and they may not be able to attend.
The motion to decertify Gill Hall was not on Monday or Wednesday's agenda.
Reynolds argued after the vote was cast that it should have been open to public comment prior to council action since it was not specifically noted on the meeting plan.
Gabriel said the motion fell under the umbrella of the discussion of the fire company's probationary plan options, which was listed on the agenda, and did not have to be open for public comment based on all the previous speaking opportunities.
Melissa Melewsky, media law counsel for the Pennsylvania NewsMedia Association, said that may not be the case.
"The Sunshine Act requires an opportunity for meaningful public comment prior to all official action," Melewsky said via email Wednesday night. "If the agenda did not enable the public to understand the proposed official action during the regular public comment period, it is incumbent on the agency to open public comment again prior to the vote.
"The public isn't required to guess what an agenda item might include. Some agendas are very specific and provide meaningful information about a proposed decision, but this one doesn't seem to contain that kind of detail. Based on the little I know of the facts, there should have been a meaningful opportunity for public comment on the specific proposed action before the vote was taken."
A motion made Monday night into Tuesday morning by Reynolds to allow Gill Hall to be dispatched failed via 2-2 vote after three council members left the marathon meeting. That motion was also not open to public comment prior to the vote.
An email to Gabriel on Wednesday evening was not returned.
More than 100 people watched both sessions via the borough's Facebook page.
There were a lot of comments in support of both JHFR and Gill Hall, along with multiple clown emojis and people calling it a circus.
"We have become a laughingstock out there," Steffey said. "There's a lot of people viewing online just to do so for entertainment. I think a lot of people need to truly sit down with your borough code book and your Robert's Rules (of Order) book and re-familiarize yourself. I'm sure some of you haven't even read it."
Bucy vowed to use the power of her gavel more at future meetings to help maintain order and move things along.
___
(c)2020 The Tribune-Review (Greensburg, Pa.)
McClatchy-Tribune News Service