Fire chief: 'Please don't stick your hand in a snowblower'
In a 48-hour period, six people in Massachusetts were taken to the hospital after sticking their hands in snowblowers
---
Steph Solis
MassLive.com, Springfield, Mass.
LAWRENCE, Mass. — At least six people in Massachusetts were taken to a hospital after sticking their hands in snowblowers during the storm that walloped New England Monday and Tuesday, WHDH reported.
The people were rushed to the hospital over the past 48 hours and treated in the emergency room, WHDH reported, citing a spokesperson for Lahey Hospital & Medical Center Emergency Department.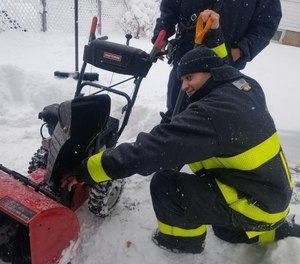 MassLive has reached out to Massachusetts hospitals to determine whether they have treated patients after similar incidents.
In Lawrence, firefighters freed a man from his snowblower after his hand got stuck. They sent him to the hospital and shoveled his driveway, Fire Chief Brian Moriarty said.
"Please don't stick your hand in a snowblower," the chief wrote.
———
©2019 MassLive.com, Springfield, Mass.
McClatchy-Tribune News Service