Ala. 911 board approves $4.35 per call response fee
The board voted 4-0 to authorize Chairwoman Virginia Alexander to send out contract notices detailing the increase from $3.98 to $4.35 per call
---
By Michael Wetzel
The Decatur Daily, Ala.
DECATUR, Ala. — The 34 agencies accepting emergency calls from Morgan County's central dispatch will be charged $4.35 per call per dispatch beginning October 1, following the 911 board's vote Thursday afternoon.
The board voted 4-0 to authorize Chairwoman Virginia Alexander to send out contract notices detailing the increase from $3.98 to $4.35 per call. However, a motion to approve a proposed $3.5 million budget failed to receive a second.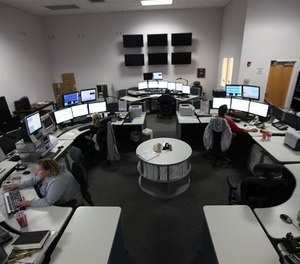 After board member Nate Allen made the motion to approve the budget, Vice Chairman Eddie Hicks said he wasn't "comfortable" passing a budget before the full board has the opportunity to discuss it. Board members Tony Grande and Charles Black were absent Thursday.
"The other board members had the opportunity to be here, too," said Allen, Decatur's police chief. "The board has delayed progress before because some reason or another. … We have got to get a budget going. The (Decatur) City Council is going to ask us what our budget looks like (when it receives the notice of increase), and we don't have a budget. I can tell the council, 'Here it is; this is what it is.'"
Hicks reminded the other board members they have until Sept. 31 to approve a budget.
Morgan County 911 Director Jeanie Pharis said she made $464,000 in cuts to keep the proposed budget in line. "I cut everywhere," she said. "It wasn't pleasant to do."
According to the proposed budget, a one-time employee pay hike, uniform costs, board travel, technical services, capital expenditures and meals won't be funded in fiscal 2020.
After the cuts and the $4.35 per call approval, Pharis said an estimated $23,000 surplus would be realized.
She proposed charging $25 a month for employees' health insurance with that rate going up to $40 a month in fiscal 2021, adding $2,000 back into the mapping budget and putting additional money into part-time salaries to keep overtime costs down. The proposed budget has 911 paying $339,590 for employees' health insurance.
The proposed budget's revenue has Decatur Police and Fire & Rescue paying $407,154 with the Morgan County Sheriff's Office paying $157,883 and the city's emergency medical services units paying $116,236.
Pharis' director report said that from Jan. 1 to June 30, 911 dispatchers fielded 82,822 calls, including 63,000 for law enforcement, another 7,000 for fires and 78 for rescues. At the $4.35 rate, the 911 office would have seen an increase of $30,644 for the first six months at the 82,000 call total.
Thirty-four entities are in the Morgan County 911 network. They are Decatur police, Morgan sheriff, Decatur fire, Hartselle Fire, ambulance services Lifeguard and First Response, the police departments of Somerville, Trinity, Priceville, Hartselle and Falkville, the Morgan County Rescue Squad, and 22 volunteer fire departments.
In other business, the board:
Decided not to hold discussions on plans to expand the 911 central office.
Honored information technology members James Wright and Terry Johnson as employees of the quarter.
———
©2019 The Decatur Daily (Decatur, Ala.)
McClatchy-Tribune News Service