Petition seeks to reverse mayor's decision to remove thin red line flag from Mass. fire station
Demonstrators in Newton delivered the petition to the mayor's office, asking that the Firefighter Remembrance Flag be put back up
---
Jake Epstein
Wicked Local Metro, Needham, Mass.
Demonstrators upset with Mayor Ruthanne Fuller's decision to remove the Firefighters Remembrance Flag (or the Thin Red Line Flag) from Station 4 in June, held a rolling rally on Thursday that ended at City Hall. There they delivered a petition with more than 1,000 signatures to her office and the city clerk asking that it be put back up, according to resident Paul Pasquarosa.
Marc Rizza, Newton Firefighters Association (Local 863) president, said in a June statement that "We fly the remembrance flag in honor of the valiant men and woman who sacrificed so much to protect their communities. Keeping alive the memory of those who gave their all is a deep part of who we are," said Rizza.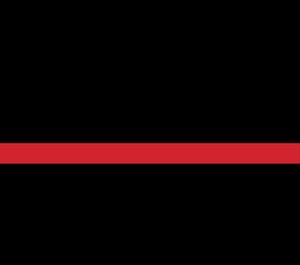 The demonstrators and union weren't the only ones who hoped the mayor would reverse her decision. In late June, a majority of city councilors signed a letter to the mayor in support of reinstating the flag.
"This is purely a commemorative flag ... it's been up for years," Councilor Maria Scibelli Greenberg said previously. "I think she [the mayor] should make an exception with this one."
Although there is now a thin red line flag hanging on a pole outside of City Hall, protesters want it back at the station.
The Thursday rally started at Station 4 on Crafts Street with a convoy of about seven trucks with American and Thin Red Line flags pulling up outside City Hall around 5 p.m.
One truck towed a flatbed equipped with a massive bell, which some protesters rang as others waved flags and held signs in front of the building.
"The mayor made the fire department take down [the Thin Red Line] flag, which was flying inside the station ... and there's no reason," said demonstrator Cathy Abruzzi, a Newton resident. "Somebody complained - big deal. It wasn't visible from the street, so there's no reason and [the mayor] refuses to give in."
The mayor told all department heads in early June that only American flags and Newton-created banners could be placed on city-owned buildings, the Tab previously reported.
In a previous statement, the mayor said "she supports the values embedded in the Firefighters Remembrance Flag and is deeply grateful for the sacrifices made by our firefighters."
The decision was "not about any one particular flag. Rather, this is about not putting the city in a position of censoring/endorsing which banners and ideas put forward by our employees will be on the sides of our buildings," the statement said.
Demonstrator Al Cecchinelli, a Newton resident, said, "The main reason we're demonstrating today is we delivered the petition from the citizens of Newton ... signed to get the flag put back up — and we hope, through that process of citizen action and grassroots action, that something will happen within the City of Newton."
Staff writer Julie M. Cohen contributed to this report.
©2020 Wicked Local Metro, Needham, Mass.
———
FireRescue1 News
McClatchy-Tribune News Service