19 animal rescues in 2019
From the many dogs rescued from burning homes to the fat rat stuck in a manhole, firefighters had their hands full with animal saves
---
By FireRescue1 Staff
I'm not crying, you're crying!
Animals hold a special place in our hearts, and thanks to fire and rescue personnel around the world, many pet owners and animal lovers can breathe a sigh of relief knowing their furry – and not-so-furry – friends are safe.
From the many dogs rescued from burning homes to the fat rat stuck in a manhole to the bald eagle being rehabilitated so it can fly again, here are 19 great animal rescue stories from 2019 to warm your hearts:
Video shows a firefighter from the Smyrna (Georgia) Fire Department handing a small dog through the window of the burning house.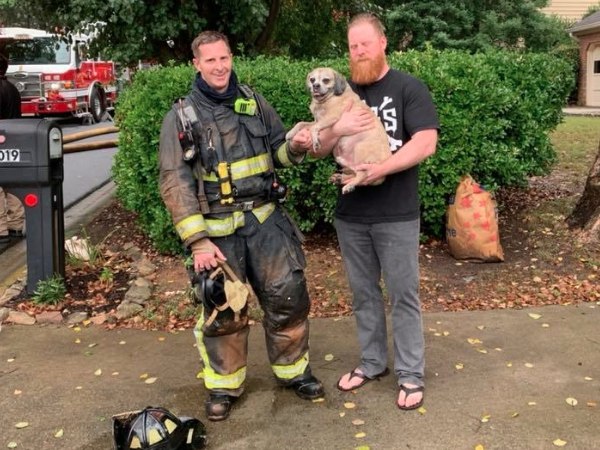 The Scotland Volunteer Fire Department responded to a barn fire, and firefighters were able to save a chicken coop and dogs from the structure.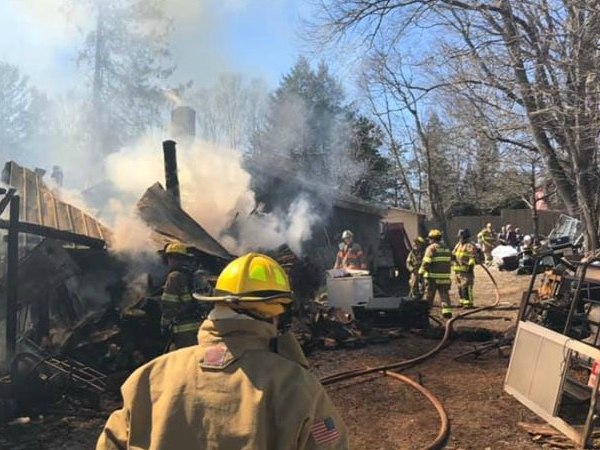 While battling a house fire in Waterloo, Iowa, firefighters were able to locate the homeowner's two dogs, Duck, who was unharmed, and Slim, who was unconscious but revived with the use of a pet oxygen mask.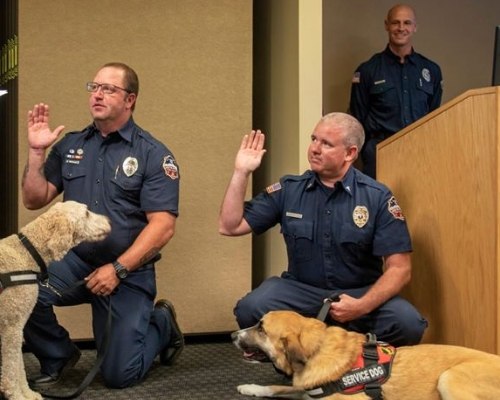 After service dog Micky went missing, its owners found him in a six-foot-deep hole that had formed along a seawall at their waterfront home; fortunately, Seminole County firefighters were able to shore up the hole and pull Micky to safety.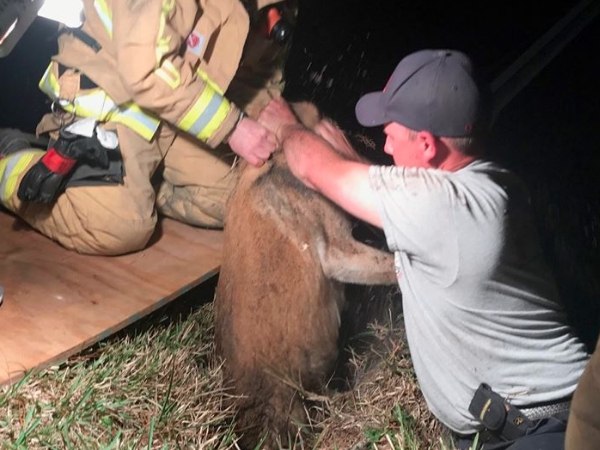 When a five-month-old baby seal named Santos waddled his way into a Redwood City parking structure, a good Samaritan called the Redwood City Fire Department, and members were able to capture Santos and take him back to the station, where he was picked up by the Marine Mammal Center.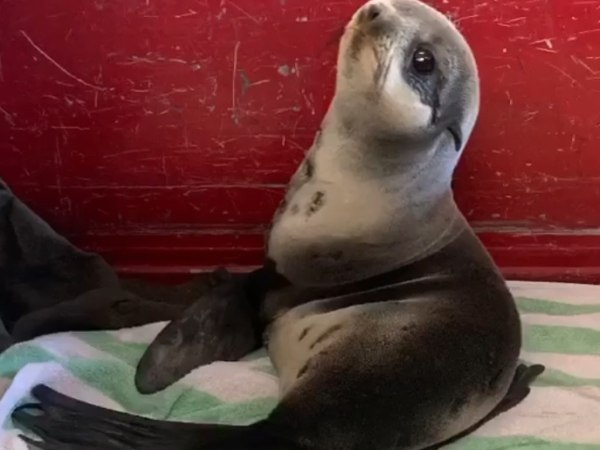 When a 6-month-old dog named Fifi managed to wedge her head inside a cinder block's holes, firefighters from St. Johns County Fire Rescue used the Jaws of Life to break the block into pieces. Fifi was not injured in the process.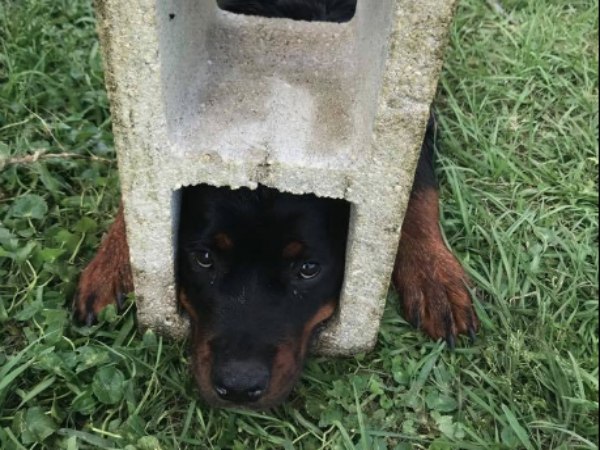 Fort Lauderdale firefighters responded to the home of a man who found an iguana in his toilet. Crews fished the iguana out and released it into the wild.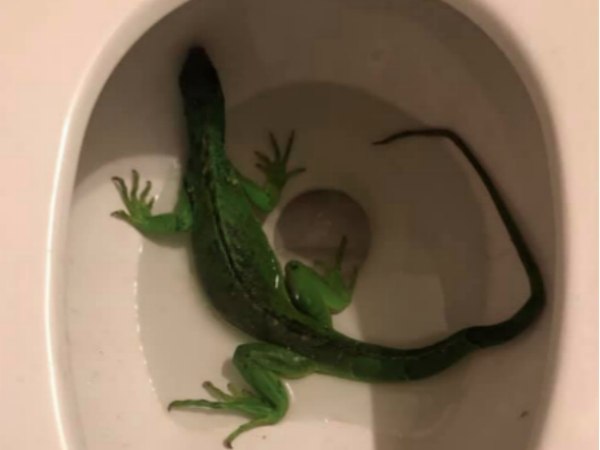 Baltimore City firefighters were able to revive an unconscious mutt they found inside a burning home using a pet oxygen mask provided to the department through a partnership with Invisible Fence Brand.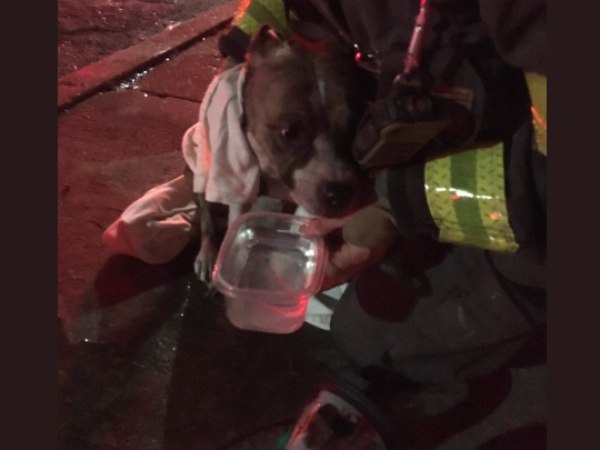 After learning that a horse named Eli was on its side in a creek with one leg trapped under ice, Oxford Fire Department crews entered the water and used tow straps to remove the horse from the ice, and then community members helped crews get the horse up the embankment to safety.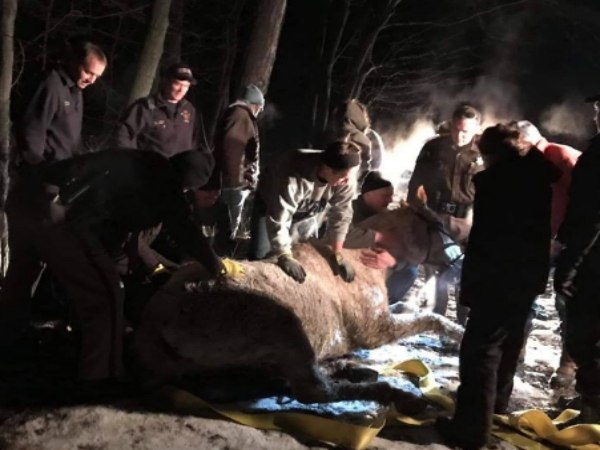 Following a vehicle accident with patients treated, Rutherford County Fire & Rescue crews also assisted Pepper, a dog that needed a bleeding paw bandaged.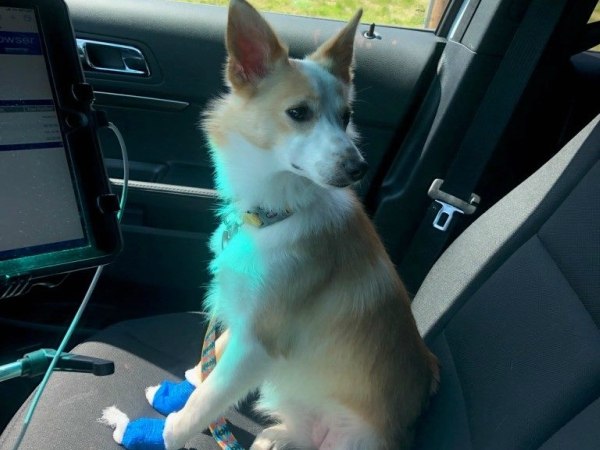 During the Maria Fire in California, firefighters found a great horned owl among the ashes, disoriented and suffering from smoke inhalation. Ventura County firefighters rescued the owl, which was turned over to the Wildlife and Environmental Conservation for care.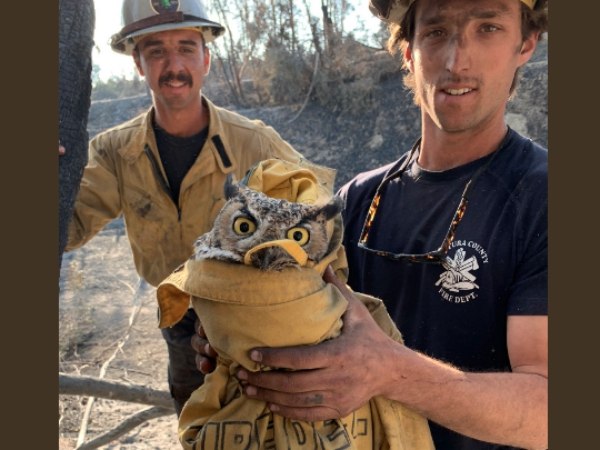 Charleston Fire Captain Paul Bryant responded to a call for a puppy trapped under rocks and concrete – and found his best friend. He later adopted the puppy, now named Rocky.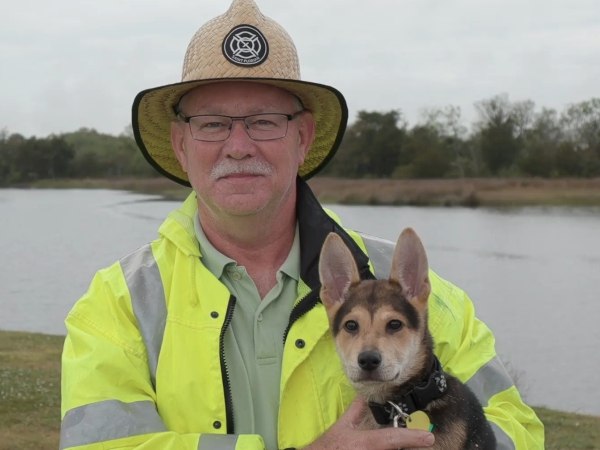 Chula Vista firefighters used a net to rescue 13 ducklings from a storm drain. The ducklings were ultimately transferred to Project Wildlife where caregivers will raise the ducklings until they can survive on their own.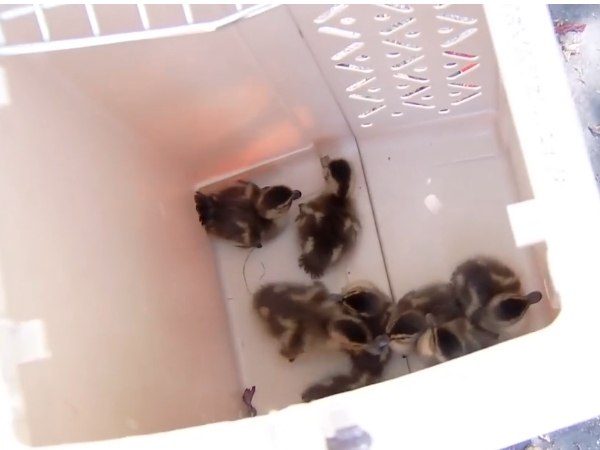 Euclid Fire Department firefighters used a new saw to free a deer stuck in a metal fence – all while the deer's mother watched from a nearby location.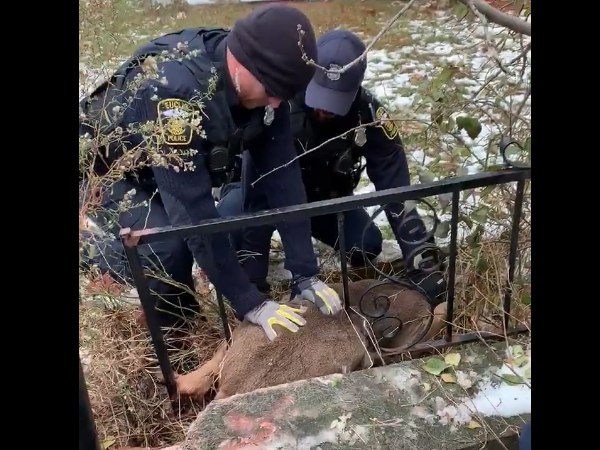 The South Metro Fire Rescue Authority responded to a report of a dog that had fallen into icy waters at a park. A firefighter donned a dry suit, quickly rescued a dog, and reunited the dog with its owner.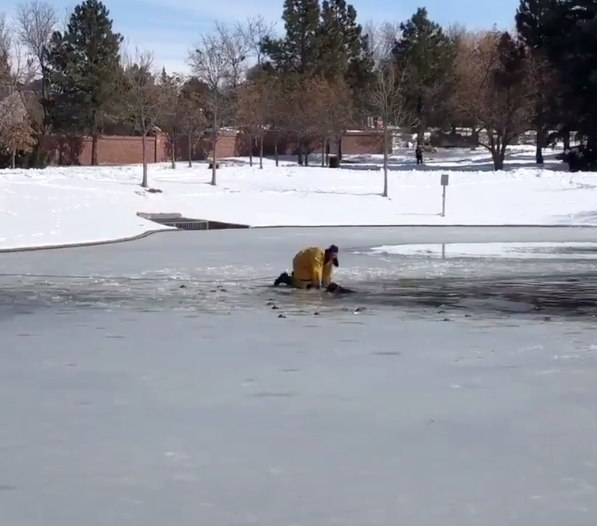 When responding to a house fire, Phoenix firefighters were shocked to find a house full of hundreds of snakes and other reptiles – all non-venomous. Some members of the crew battled the flames while others picked up the snakes.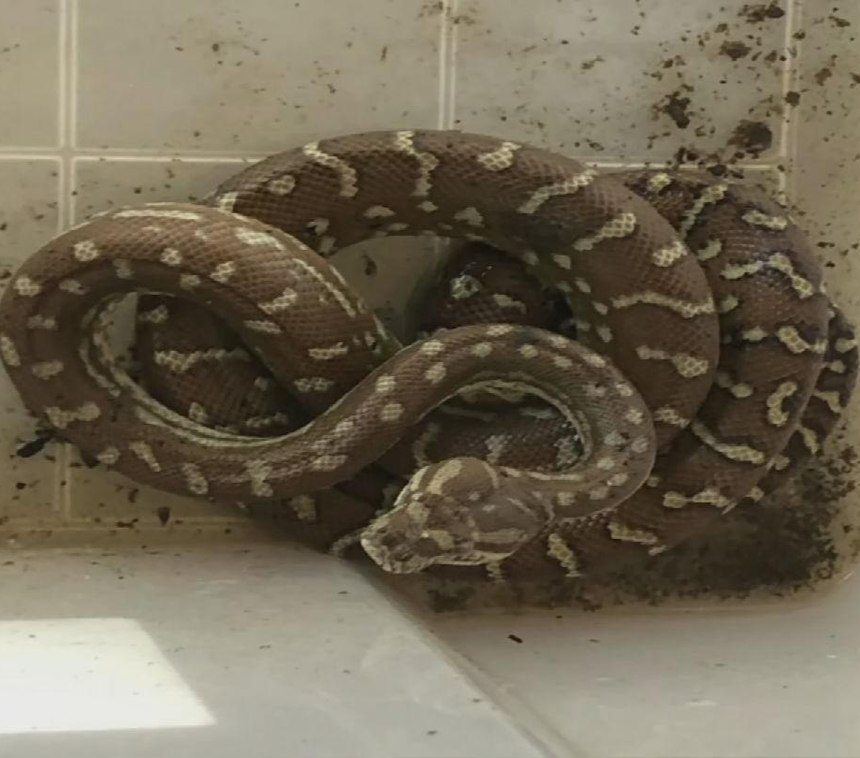 A volunteer fire crew in Germany responded to the scene of a plump rate that had become stuck in a manhole. Crews used a pole to hold a plump rate still while they lifted the manhole cover and released the animal.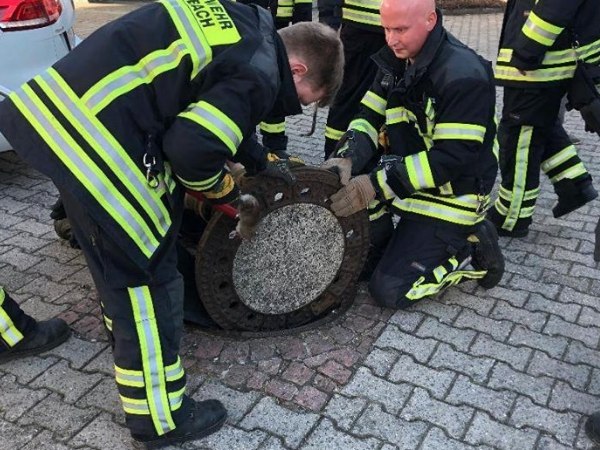 Oswego (Oregon) Fire Department crews helped rescue a bald eagle hanging from a branch after someone noticed that it appeared to be injured. Rescuers had to cut away a blanket from the eagle's talon.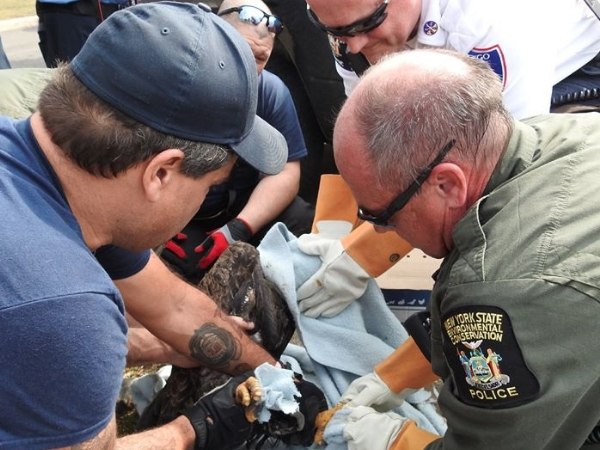 The Pueblo Fire Department pulled a dog from a structure fire and used resuscitation equipment donated by the Southern Colorado Kennel Club to revive the pooch. The dog gave Fire Engineer Phil Chapin a heartfelt thanks with many kisses.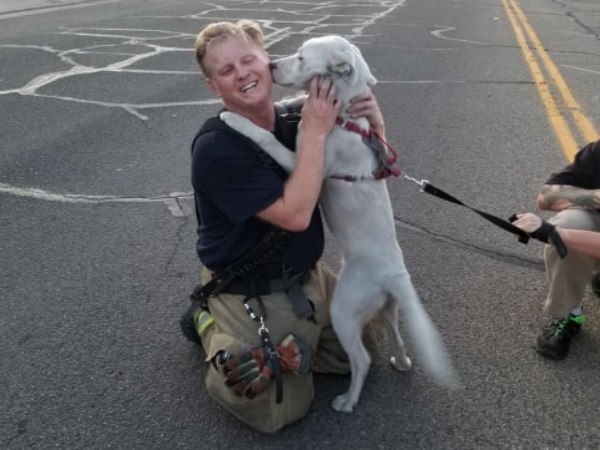 Bonus animal news!
Although not rescue-related, there were some other important animal stories that made headlines in 2019 as well:
New NY law allows first responders to remove animals left in vehicles
Ind. FDs now have respirator masks for pets
Idaho bill would give first responders immunity for rescuing pets
Editor's Note: Do you have a heartwarming animal rescue story? Share it in the comments below or at editor@firerescue1.com. We may use your photo in a Photo of the Week!