Mass. firefighters pull out horse stuck in icy marsh
More than 20 responders worked 2 1/2 hours to pull Moonshine out of the 'quicksand-like' mud and ice
---
The Salem News
HAMILTON, Mass. — Moonshine knew she was in trouble, but she remained calm.
After falling through ice in a marsh at Devon Glen Farm on Bay Road, the 1,800-pound horse was up to her neck in mud when emergency crews arrived around 12:30 p.m. Saturday, according to Deputy fire Chief Kirby Brand. It is unknown exactly how Moonshine ended up in the marsh, but officials said they believe she escaped a nearby paddocks.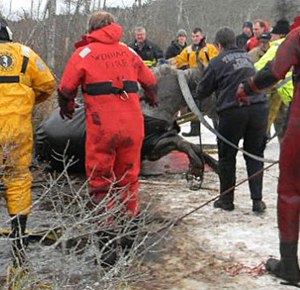 "She was up to her neck in mud and ice," Brand said. "It was almost like quicksand in some areas."
Crews immediately worked to keep the horse's head from sinking any further. Moonshine was pinned under the ice by her front legs, and the mud created a vacuum holding her down, Brand said.
The farm is down a long drive off Bay Road, and the rescue took place in a remote area. A neighbor called 911 to report the emergency.
Brand said firefighters entered the water in survival suits to remove the ice and mud from around Moonshine. After several attempts, rescue slings were placed under the horse, he said.
Through it all, Moonshine remained calm.
"We helped her get her feet up," Brand said. "Every time we started to pull, she was trying to help. She knew we were trying to help her."
Moonshine was freed about 21/2 hours later after more than 20 people pulled her out by hand. After resting a few minutes, the horse walked back to the barn on her own, Brand said.
Brand said the horse had mild hypothermia and a few bumps and bruises. A veterinarian gave Moonshine warm intravenous fluids because the horse was 5 degrees colder than she should have been.
While a crane and tow truck were on hand, they couldn't be used because of the remote location, Brand said.
"This was one of the most challenging rescues we've ever managed," Brand said, "and it was a successful extrication. It was a real team effort."
Neighbor Kevin Bottomley said he called 911 after his daughter Amy Cavilla spotted the stuck horse while walking down the driveway toward Cutler Road.
"They just happened to hear the horse snort and looked over," Bottomley said. "It was in the marsh, not the open water, and someone could have walked by and never saw her. I drove by 10 minutes earlier."
He said he saw the horse's owner walking Moonshine twice yesterday, and the horse seemed "energetic." The horse was wearing a blanket and still covered in mud, he said.
"It was quite an effort," Bottomley said of the rescue. "A lot of people came without hesitation."
Those responding included Hamilton fire and police, Wenham fire, Topsfield fire, Beauport Ambulance, FEMA Task Force Cmdr. Mark Foster and Rehab 5. Manchester and Essex fire departments provided station coverage.
The crane was provided by Dodge Tree Service of Hamilton and the heavy wrecker by G & J Towing of Revere.
Both companies offered their services without being asked, Brand said.
The barn was closed last night, and the owner could not be reached for comment. The horse is owned by a woman who lives in Marblehead, Bottomley said.
Brand, who visited Moonshine yesterday, said she's a lucky lady.
"The horse was in the swamp in the back, and no one would have seen her from the road," he said. "She is pretty lucky that a person was walking by."
Copyright 2014 The Salem News
All Rights Reserved