New calendar pairs Tenn. firefighters with their pets
All proceeds from sales will help the Chattanooga Fire Department supply each station with specialized equipment to resuscitate pet
---
By Lisa Denton
Chattanooga Times/Free Press
CHATTANOOGA, Tenn. — Picture this: Local artist Miki Boni is at a Chattanooga fire station shooting photos of firefighters and their pets. The pets are mostly cooperative, and the firefighters are all gung-ho. But they're also on duty, so Boni has to take a break every time an emergency call comes in.
"One of the stations I was at, every 10 minutes they'd get a call. They'd go out and come back and go out and come back. But that's life for them."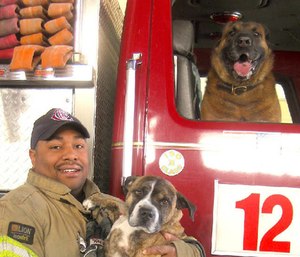 She eventually gets the shots she needs. And to hear her reminisce about it now, you get the idea it's the most fun she's had in ages.
"It just gave me the chills," she says. "There was so much cooperation and excitement."
Twenty-two times she repeated versions of this scene to shoot photographs for the first Chattanooga Firefighters & Their Pets calendar, now available at nine locations around the city.
"The firefighters were amazing," she says. "They were beyond fun."
Perhaps most memorable: "One guy that shaved his chest and was ready to go surprised the hell out of me," she says, laughing.
That would be Firefighter Engineer Mark Coffman. Despite his shirtless appearance for June 2018, with puppy Willow folded into his helmet, this is not that kind of calendar. For the most part, the firefighters are pictured in full turnout gear or other work clothes. And each poses with at least one family pet.
Produced by Wally's Friends Spay & Neuter Clinic and Miki Boni Studios, the 21-month calendar starts with April 2018 and goes through December 2019. All proceeds from sales will help the Chattanooga Fire Department supply each station with specialized equipment to resuscitate pets rescued from structure fires. Oxygen masks for humans don't fit dogs and cats.
"Hundreds of innocent cats and dogs could be saved by Chattanooga firefighters — animal lovers! — each year if their trucks were properly outfitted with resuscitation equipment specifically designed for the long faces of cats and dogs — pet oxygen masks and [squeezable, self-inflating] Ambu bags," says Eileen Price, executive director of Wally's Friends. "Our initial goal is to raise $6,000 to equip each of the 23 trucks with a full set."
The larger goal is to make this an ongoing project so that backup masks are always at the ready.
"We'd like to have two sets for each truck because people have multiple animals in their home," she says.
And she anticipates needing extras as masks are lost or damaged with use.
In a news release, Fire Chief Phil Hyman says the department is grateful for the help.
"As far as I know, we've never done anything like this before, but we can certainly put that pet rescue equipment to good use if we get it."
Calendars sell for $20, and all proceeds, minus printing costs, will go toward the resuscitation kits.
Capt. Amanda Horner and Lt. Scott Sparks posed for Station 13 in Brainerd — Sparks with Goose, a 15-month-old cocker spaniel, and Horner with Bruno, a mixed mutt she's had for two years.
"Lord, I have five dogs," Horner laughs. "I could not bring them all."
The photo of Horner and Bruno, Sparks and Goose together is an October image, and a single shot of Horner and Bruno — standing on his hind legs and as tall as Horner — graces the calendar's cover.
"I'm not sure how I ended up on the cover," Horner says, "but that was a sweet surprise."
She recalls that "Goose was amazing" at the photo shoot. "He loved the attention."
Bruno, on the other hand, stayed "right by my side and was not sure about it," but "Miki did a great job getting the animals to relax and taking the picture at the right moment."
Lt. Fred Edgemon, who posed during downtime at the Fire Training Center, offers similar kudos for Boni, who may be best known for her paintings but is also an accomplished photographer.
"The photo shoot wasn't as difficult as people would think," he says, "but to get two dogs to look at the camera at the same time took more than a few photos."
He shares the spotlight with his dogs, Stumpy, an Old English bulldog, and Sally, a mix.
Firefighter Jacob Walling of Station 1 is featured in February, posing with Bella. The chocolate Labrador retriever is actually his sister's dog, "but I like to go pick her up to take her on outdoor adventures on my days off," he says. "Her favorite things in the world are fetching, swimming and ear rubs."
He says her fondness for ear rubs explains her odd pose in the photo. "Bella looks funny holding her head straight up, but she's getting her ears rubbed and loving every second."
Walling has since added a German shorthaired pointer puppy to the family fold.
One of the things that impressed Boni was how many of the pets she photographed were shelter rescues. That alone makes the project special for the folks involved with Wally's Friends, a high-volume, low-cost clinic that has spayed or neutered more than 112,000 animals since opening in November 2006. Nationwide, an estimated 4 million to 6 million homeless companion animals enter shelters every year, and only about half are adopted, according to Price.
The calendar, she helps, gives the local agency another way to help save the lives of animals.
Horner says her station has used oxygen masks on animals to help them breathe, and Walling has performed CPR on a dog.
"I found her unconscious, hiding under her owner's bed," he recalls. "I took her outside and started CPR. Her owner was hysterical. It was a very emotional scene."
Such emotional encounters play out every day for firefighters, so the chance to trade life-and-death situations for a fun photo shoot with their pets was a welcome diversion. Even when things got hectic.
"We had three or four dogs down at Station 1," Walling says, "while we were running back-to-back calls and trying to keep Mark's shirt on him."
Copyright 2018 Chattanooga Times/Free Press