Conn. FF fired from department following rape allegations, arrest
Angelo Alleano Jr. was charged with a series of burglaries and rapes that took place in Manchester and Vernon over a nearly 10-year period
---
Skyler Frazer
Journal Inquirer, Manchester, Conn.
MANCHESTER, Conn. — Angelo Alleano Jr., the former firefighter and union leader charged with a series of burglaries and rapes that took place in Manchester and Vernon over a nearly 10-year period, has been fired, town records show.
Alleano, 47, of Gerald Drive in Vernon, was arrested May 27 and charged with first-degree sexual assault in four rape cases between 2001 and 2008.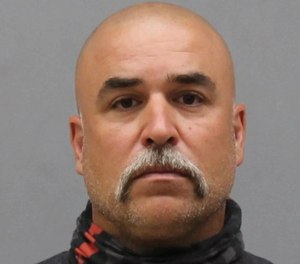 Fire Chief David Billings wrote a letter to Alleano on May 29 informing him that he was fired "due to misconduct" effective May 28.
Alleano is being held at Bridgeport Correctional Center on $1,000,500 bond and is next scheduled to appear July 10 in Vernon Superior Court.
Other than the letter of termination, Alleano's personnel file from his more-than-22-year career as a Manchester firefighter is sparse. He was hired Aug. 31, 1997, at an annual salary of $36,189.14. By the time of his firing his salary was up to $78,646, according to documents.
Alleano graduated from East Catholic High School in Manchester in 1991 and then attended Manchester Community College for two years. Before he was hired as a firefighter in Manchester, he had been a member of the South Windsor Volunteer Fire Department, and an EMT and paramedic for two professional ambulance companies.
His personnel file contains no disciplinary actions, warnings, or investigations.
Alleano's arrest last month ends a two-decade-long investigation into the rapes that occurred in Manchester and Vernon between 2001 and 2008, police from both towns said following his arrest.
Police said they knew, based on DNA evidence, that the same man committed all four crimes, but they were not able to identify a suspect.
Kristin Sasinouski, deputy director of forensic biology and DNA at the state lab, said at a news conference announcing Alleano's arrest that the lab in 2019 received a $1.4 million grant to do additional testing in unsolved sexual assault cases. She said DNA samples from the string of sexual assaults were sent to an outside firm that conducted forensic genealogy testing, which "combines DNA with traditional genealogy ... as well as familial research to deliver investigative leads."
Sasinouski said the firm used DNA evidence and available genealogical information to form a "family tree," which police then used to identify an individual of interest and obtain a search warrant to collect DNA.
Police said Alleano provided a DNA sample after he was arrested in a domestic incident, and his DNA proved to be a match.
Tolland County State's Attorney Matthew Gedansky called the DNA-based evidence "very strong." Gedansky told the judge at Alleano's arraignment that one victim of the crimes may be dead, but he's verified that at least one of the four victims of the crimes that occurred from 2001 to 2008 is still alive.
The string of sexual assaults began in August 2001 when an 84-year-old woman was sexually assaulted in her Squire Village apartment in Manchester by a man who entered through an unlocked door between 2:30 and 3:30 p.m., according to a 2010 "John Doe" affidavit written before Alleano was identified as the suspect.
The second sexual assault in the case took place in December 2004, when a 57-year-old woman reported that a man entered her home through an unlocked door in the middle of the night, sexually assaulted her, and threatened to do the same to her sleeping mother who was also in the home, according to the affidavit.
The third assault tied to Alleano occurred in March 2007 when a 37-year-old Manchester resident reported that a man entered her bedroom when she was sleeping and sexually assaulted her, the affidavit states. She said the man threatened to harm her son, who was sleeping in another bedroom, if she called the police.
The last assault tied to Alleano occurred in Vernon in January 2008. A 61-year-old woman reported that a man entered her home while she was asleep on the couch and sexually assaulted her, the affidavit says.
The affidavit states that, in each case, the women reported that the assailant hid his identity by wearing a mask or obstructing their vision during the assaults. He also told each of them that he would hurt them if they called police, or would be aware if they called police. Investigators also stated in the document that he appeared to have "intimate knowledge of the victims and their residences."
———
©2020 Journal Inquirer, Manchester, Conn.
McClatchy-Tribune News Service