3 Ga. firefighters suffer burns at house fire
"Often times we don't really deal with our own getting hurt or being injured, so this is difficult for us," said Capt. Jaeson Daniels, DeKalb fire spokesperson
---
By Rosana Hughes, John Spink
The Atlanta Journal-Constitution
DeKALB COUNTY, Ga. — Three DeKalb County firefighters had just gotten through the door of a burning house in Tucker when they were pushed out by the flames early Thursday morning.
When crews arrived at the house on Oxbow Road just before 6 a.m., they found heavy flames coming from the garage, DeKalb fire spokesperson Capt. Jaeson Daniels told reporters at the scene. By that point, the residents had made it out safely, he said.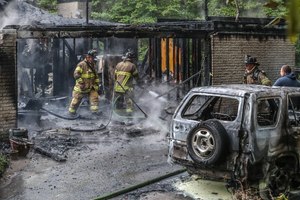 The three firefighters suffered moderate burns and were taken to Grady Memorial Hospital, officials said.
"Often times we don't really deal with our own getting hurt or being injured, so this is difficult for us," Daniels said. "We're just fighting through it right now. We're going to make sure that those guys have the best outcome."
The flames were quickly extinguished after the injuries took place, he said. Fire crews were still pouring water on the home's charred remains around 7:30 a.m. It is a total loss, according to authorities.
The cause remains under investigation, but Daniels said preliminary information indicates it started in the garage.
©2023 The Atlanta Journal-Constitution.
Visit at ajc.com.
Distributed by Tribune Content Agency, LLC.
McClatchy-Tribune News Service