Pa. FD not being dispatched despite being reinstated
One councilman who supports the Gill Hall Volunteer Fire Company claims the delay in getting the station dispatched is a "stall tactic" designed to force the agency into a merger
---
By Michael DiVittorio
The Tribune-Review, Greensburg
ALLEGHENY COUNTY, Pa. — Gill Hall Volunteer Fire Company in Jefferson Hills has not been dispatched on calls for months despite being reinstated as a borough fire department.
Fire company officials claim the problem is the borough has not formally notified Allegheny County dispatch to put the company back in its run cards, while other elected leaders say it is because Gill Hall refuses to join a merger of other borough fire departments.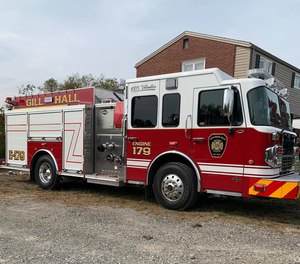 Run cards include information for dispatchers so they know what departments to call out during an emergency.
"We're not asking for anything special," Gill Hall Vice President Brian Hutson said Tuesday. "All that we're asking for is to turn the clock back to December 2018 when we were active as station 179. We're not a brand new station. It shouldn't be a surprise to anybody."
Jefferson Hills council voted to drop Gill Hall as a recognized fire department in January 2019.
The 72-year-old, 20-member department was not dissolved by the decertification vote and still maintains ownership of its fire hall, truck and other equipment.
Several new members joined council this year, and reinstated Gill Hall in April on a one-year probationary status provided all fire companies undergo mediation and get audited.
However, Hutson said the borough failed to notify Allegheny County Emergency Management about the reinstatement so they can start to develop new run cards with their station number, 179.
Jefferson 885 and Floreffe volunteer companies responded to all calls in Gill Hall's absence. The two are in the process of becoming one, Jefferson Hills Fire Rescue.
JHFR Chief Brian Chalfant said his department is working under an operational merger while attorneys sort out other details. They are dispatched under the station number 180.
Council President Karen Bucy said the borough and county officials have discussed fire department dispatch. A new run card would take about 10 to 12 weeks to develop, meanwhile it would only take a day or two to add Gill Hall to JHFR's run card, said Bucy.
The borough offered to add Gill Hall to county dispatch as 180-3 in August, but they refused.
Hutson said their station 179 number means a lot to the company, and signing on as part of 180 would "be the beginning of the end."
"They are trying to organize this to get us to merge, and we don't want to merge," said Hutson. "We're trying to get put back on the run card, and there always seems to be a hurdle that manages to come up when we get close."
Mayor Jan Cmar and Councilman Keith Reynolds are among borough officials in support of Gill Hall's independence.
"It's unfair to all these residents in this area who do not have their own fire protection," Cmar said. "Plans are being approved and homes are going in (in the Gill Hall neighborhood), and they're buying homes under the assumption that they have fire protection and they don't. This has gone on too long. We need protection here."
Reynolds said not starting the process to have Gill Hall dispatched under its own station number is a "stall tactic" by some members of council in order to force the merger.
"It's simply a power struggle within our borough, and unfortunately the residents are suffering through this power struggle," he said. It's taking away from our performance as a council. When it comes to the spot of the meeting where we're going to discuss the fire halls you can hear the moans ... We still have not been able to solve this issue. It's embarrassing for us as our performance as a council, and it's embarrassing for us as a community."
Money also plays a role. The borough budgeted $442,000 for fire protection this year.
Hutson said Gill Hall was only allotted $20,000 of that.
Reynolds has lobbied for Gill Hall to have more access to fire tax funds as well as foreign fire insurance tax monies.
Gill Hall was involved in merger talks until October 2018 when their leadership decided to remain independent.
Chalfant said the departments have been through mediation since Gill Hall's reinstatement, and even the mediators said merging was a good idea.
"We need to start consolidating and using our resources and funding better for the community," Chalfant said.
Many other communities have merged fire departments over the years including several in Elizabeth Township about 15 years ago, and last year with Rankin and Braddock fire departments.
Gill Hall firefighters could be dispatched immediately if their company agreed to cooperate with the borough, Chalfant said.
Its members would be added individually to JHFR's alert system, and they would be sent out on all its calls instead of waiting for a new run card, said Chalfant.
Hutson said his company will continue to fight for its independence even if it means not going out on calls yet.
___
(c)2020 The Tribune-Review (Greensburg, Pa.)
McClatchy-Tribune News Service