NY 911 dispatcher, former fire chief dies from COVID-19
Putnam County 911 Dispatcher and former Lake Carmel Fire Chief Robert Shannon II, 49, died after becoming ill during a shift at the 911 center
---
By Laura French
PUTNAM COUNTY, N.Y. — A former New York fire chief and active 911 dispatcher has died from COVID-19. 
Putnam County 911 Dispatcher and past Lake Carmel Fire Chief Robert Shannon II, 49, died Saturday after becoming ill during a shift at the 911 center, Putnam County 911 Shift Supervisor Shawn Madsen, who is also a past Lake Carmel fire chief, according to a statement from the Lake Carmel Fire Department.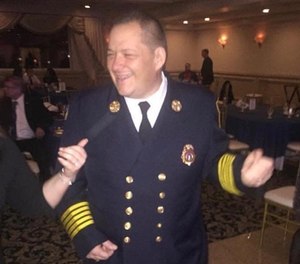 Shannon was a third-generation fire chief and served for more than 30 years in public safety, and assisted at the World Trade Center after September 11, 2001. He had worked for the Putnam County Bureau of Emergency Services as a 911 dispatcher for about 11 years. 
Shannon was also serving on the Lake Carmel Fire Department Board of Directors as the corresponding secretary at the time of his death, and was a life member of the department. 
He is remembered as a mentor for the youth of his community, working as an educator for the Lake Carmel Fire Department Explorer post and the Red E. Fox 911 program that teaches children how to call 911 in an emergency, and giving fire safety demonstrations at local schools.
"He was a truly community-driven individual," said a statement on the fire department's website. "Chief ... You will be missed. Thank you for everything you have done for us. We'll take it from here." 
Shannon is survived by his wife, Lake Carmel Fire Lt. Crissy Shannon, and their three children.