Pandemic complicates wildfire response efforts, testing for firefighters
A Senate committee heard testimony focused on the need for PPE, testing in camps and prevention efforts
---
First responders and public safety agencies around the country already stretched and exhausted from coronavirus response are now facing fire activity. And just as coronavirus has complicated daily life, "the virus has also added a new layer of complexity for wildland firefighters," Senate Energy and Natural Resources Committee Chairwoman Lisa Murkowski (R- Alaska) said during a pre-wildfire season hearing Wednesday.
The National Interagency Fire Center (NIFC) announced in May that response plans would account for coronavirus. This as the National Interagency Coordination Center's seasonal outlook predicts "above normal fire activity" following the dry winter.
"There are questions circulating among the public about the use of evacuation centers this summer," Senator Joe Manchin (D-W.V.) added. "There are questions circulating among firefighters about workers' compensation and more."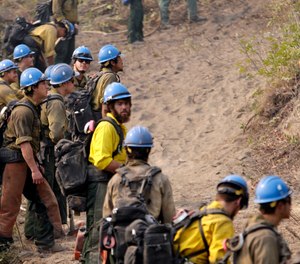 Inadequate testing a major concern
Manchin and Senator Tom Udall (D-N.M.) introduced a bill Tuesday requiring that all firefighters be tested for COVID-19 before joining the fireline, and – like differing bills passed by the House and Senate, therefore unable to get to the president's desk – presume that if personnel contracts coronavirus during the fire season they will have been presumed to contract it on duty "because of the unique in working conditions that wildland firefighters undertake," Manchin said. A similar House bill was introduced in April.
Norm McDonald, the wildland fire and aviation program manager with the Alaska Division of Forestry, reiterated that, even following CDC guidance, wildland firefighters face "limited hygiene, the work is arduous, the days are long, there's often little rescued instance, smoke exposure on the grind of the season wears down the immune system. So even in the best of times, it's difficult to maintain a healthy workforce."
Manchin pressed Amanda Kaster of the Department of Interior about testing and resources for PPE, like masks. Indicating only that temperature checks are conducted, Kaster deflected Manchin to further discussions about mandatory testing with CDC and others.
"That's not acceptable," Manchin fired back. "This is ridiculous."
Senator Ron Wyden (R-Ore.) engaged John Phipps, Deputy Chief for State and Private Forestry with the U.S. Forest Service, calling bureaucratic answers about coordinating with state and local partners or the interagency generally a frustrating "word salad."
Phipps indicated that a medical committee had advised against testing for providing a single snapshot in time; fire camps would need "a robust capacity" since crews "could easily overwhelm local facilities."
Accidental ignition a concern with outdoor evacuation siting
Phipps testified that his agency has accelerated ad campaigns with Smokey Bear messaging in an effort to reduce human starts, which account for most ignitions in the nation's forests.
One reason to attack inadvertent arson is that social distancing and state-based economic lockdowns had reinvigorated outdoor recreation, and many parks remained open as an escape from quarantine.
Evacuation orders present a concern as well, in that the public may be asked to retreat to the outdoors like camp sites rather than indoor centers like school gyms, putting even more people – some less versed in camping – concentrated at sites. Hotels are another option.
"COVID-19 does not change these dangers and we cannot jeopardize safety in attempts to lower COVID risk," explained Washington State Forester George Geissler. "If something changes one risk for another, we must figure out better protocols."
Phipps added, "This is an unprecedented year," and Murkowski agreed, "We're taking this very seriously."
Additional resources