Fired FF charged in serial rapes eligible for pension
Fired Manchester Firefighter Angelo Alleano Jr. is charged with raping four women between 2001 and 2008
---
Jesse Leavenworth
The Hartford Courant
MANCHESTER, Conn. — A former Manchester firefighter who is accused of raping four women has been fired after about 23 years on the job, but is still eligible for an annual pension of about $28,000.
In a letter dated May 29, Manchester Fire Chief David Billings informed Angelo Alleano Jr. that he was terminated, effective May 28, "due to misconduct."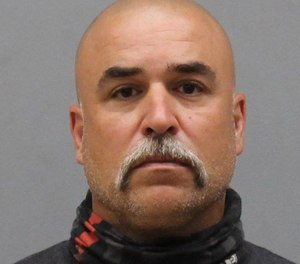 Alleano, 47, of Vernon, is accused of breaking into homes and raping three women in Manchester and one in Vernon between 2001 and 2008. He did not enter a plea at his arraignment. Alleano was being held in lieu of $1 million bail.
Even if he is convicted, however, the charges he faces -- first-degree sexual assault and second-degree burglary -- are not "predicate" crimes under state law on pension revocation. Crimes covered under the statute include embezzlement of public funds, theft of public property and bribery in connection with public service.
"Rape is a heinous crime, and the state's attorney should prosecute this case to the fullest extent of the law," Attorney General William Tong said Thursday.
"That being said," Tong continued, "this crime is not one of the specific predicate crimes in the state pension revocation statute and thus our office would have no authority to initiate an action in court seeking to revoke or reduce the pension in this case."
Manchester firefighters' pensions are provided through the state Municipal Employees Retirement System (MERS). Alleano was hired in August 1997 and his annual pay when he was fired, according to the town, was $78,646.
His average annual salary, typically the average of a worker's three highest paid years, including overtime, is $98,660, according to MERS, making him eligible for a monthly benefit of $2,334.
The amount is only an estimate, state comptroller's office spokesman Tyler Van Buren said, "and would be subject to audit and possible correction at the time of retirement." Alleano has not yet applied for retirement benefits, Van Buren said.
Manchester and Vernon police say they have DNA evidence linking the former firefighter to the four rapes, a cold case that long confounded investigators. Authorities said Alleano made admissions about the crimes after he was arrested by Vernon police.
Local officials and firefighters have said they were stunned by Alleano's arrest. At his arraignment, public defender Dean Velodota said Alleano is the father of two children, "a family man" and "someone who is very concerned with his family." The case was continued to July 10 in Rockville Superior Court.
———
©2020 The Hartford Courant (Hartford, Conn.)
McClatchy-Tribune News Service