Video: 5 amazing saves from Superstorm Sandy
First responders have manned the front lines of the storm and have made some amazing rescues
---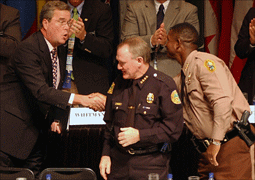 NYPD rescues 5 adults, 1 child: An NYPD helicopter was deployed to make rooftop rescues on Tuesday, Oct. 30. Aviation and scuba teams worked together to help civilians trapped in their homes due to rising waters.
The crews were able to save five adults and one child. The chopper that made the save is named Helicopter 23 in honor of the 23 NYPD officers who were killed on 9/11.

N.Y. medical staff evacuate patient: Nearly 300 patients had to be evacuated from a NY hospital after its generator lost power during the extreme weather. Rescue crews and staff worked tirelessly, some making 10 to 15 trips up and down the stairs carrying patients out to awaiting ambulances. The evacuation took about 15 hours.
Among the first to be evacuated were 20 babies from the neonatal intensive care unit, with some on battery-powered respirators. Staff had to carry the newborns and medical equipment down nine flights of stairs. 

Firefighters contain massive N.Y.C blaze: Thanks to the hard work of some NYC firefighters, no one was injured in a huge fire that claimed up to 100 homes. About 190 firefighters fought the blaze for more than nine hours, limiting the fire from spreading any further. 
Crews were forced to wade through chest-high water and use boats to rescue some 25 people trapped in an apartment complex. 

U.S. Coast Guard boat rescue: A 180-foot sailing ship lost power and started taking on water and is went against Superstorm Sandy, moving within 160 miles of the storm's eye.
The US Coast Guard dropped from helicopters to rescue the ship's crew, which had already launched two lifeboats. 14 out of the 16-person crew have been rescued; two are still unaccounted for. 

Crews rescue stranded N.J. drivers: Rescue crews braved waist deep floodwaters possibly in contact with livewires to save those trapped in their vehicles.
The National Guard has been brought in to assist in NJ, one of the most affected states by Sandy.