US fire rescue team pulls woman from collapsed 4-story building in Nepal
Disaster Assistance Response Team included 57 urban search and rescuers each from Los Angeles County and Fairfax County, Va. fire departments
---
By Tami Abdollah
The Associated Press
LOS ANGELES — U.S. rescuers from California and Virginia helped pull a 41-year-old woman from a four-story building that collapsed in this week's 7.3 earthquake in Nepal.
Tuesday's temblor was an aftershock to the April 25 earthquake that killed more than 8,000 people.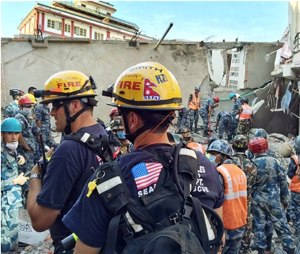 Carol Han, a spokeswoman for USAID's Nepal response management team, said its Disaster Assistance Response Team included 57 urban search and rescuers each from Los Angeles County and Fairfax County, Virginia.
Members flew into Singati, a mountain village roughly 20 miles southwest of Mount Everest, to help immediately after the massive aftershock. The woman was rescued Tuesday after several hours of digging and drilling through the rubble. Her condition was unknown but she was eating and drinking after the rescue.
Overnight the teams set up campfires to keep people warm and provided medical aid to the injured. On Wednesday, the woman and 11 other injured people were flown out and taken to a Kathmandu field hospital about 50 miles away for further treatment.
Last month, the teams helped rescue a teenage boy who'd been trapped under the rubble for five days.
The Disaster Assistance Response Team, which also includes 22 USAID disaster experts and 12 dogs, surveyed 130 buildings and bridges for earthquake damage along with conducting other rescue efforts.
Both the Los Angeles County Fire Department urban search and rescue team and Fairfax County Fire and Rescue Department's team are FEMA and internationally-certified rescue teams that have deployed to tragedies like the 2010 Haiti quake and to the 2011 Japan quake that triggered a massive tsunami.
They were sent to Nepal shortly after the main quake hit, and have worked alongside other rescue teams from neighboring India, China and Russia. The U.S. team has wrapped up its work in its assigned area and all its members are expected to be back home by next week, according to USAID.