Firefighters rescue woman, child from train vs car crash
Officials say it took firefighters 15 minutes to free the woman from the wreckage
---
Associated Press
INDIANAPOLIS — Authorities say an Amtrak train has slammed into a car at a crossing in Indianapolis, injuring a woman and 3-year-old child who were in the vehicle.
The Indianapolis Fire Department says the accident happened Saturday afternoon east of downtown. The department says the woman and her child were taken to hospitals in good condition.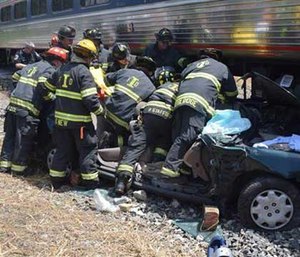 Officials say it took firefighters 15 minutes to free the woman from the wreckage.
None of the 130 on board the train was injured.