NJ firefighters rescue woman stuck in clothing donation bin for 3 days
Police say it is the third time in two years the same woman has been rescued from a donation bin
---
Chris Pastrick
The Tribune-Review
PATERSON, N.J. — A woman trapped inside a clothing donation bin for three days was rescued Monday by firefighters in New Jersey.
NBC News reports the 38-year-old woman told police she was reaching into the bin behind an apartment building in Paterson, N.J., on Friday when someone pushed her inside.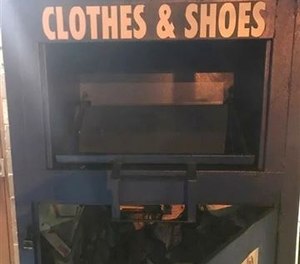 Authorities told NBC that once inside, it's incredibly difficult for anyone to escape — because of the way the donation door operates.
Around 11:30 a.m. Monday, someone passing by the bin heard the woman's screams for help and called 911, police said. Firefighters arrived and were able to cut open the door at the bottom of the bin.
WABC in New York reports the unnamed woman was transported to St. Joseph's Medical Center after complaining of numbness in her legs. She was treated for apparent frostbite, police said.
But, it turns out, this isn't the woman's first experience stuck inside a clothing donation bin.
Police said this is the third time in the past two years she had to be rescued from such a situation.
———
©2020 The Tribune-Review (Greensburg, Pa.)
McClatchy-Tribune News Service