Fla. firefighters recovering after cargo ship explosion
Four of the nine Jacksonville firefighters injured in an explosion at a shipboard fire have been released from the hospital
---
Dan Scanlan
The Florida Times-Union, Jacksonville
JACKSONVILLE, Fla. — Four of the nine Jacksonville firefighters injured in an explosion while battling a Thursday-night fire inside an auto hauler ship at Blount Island have recovered enough to go home, according to fire union officials.
The reason for the fire still raging inside the almost 600-foot-long M/V H'egh Xiamen remains under investigation by local, state and federal officials.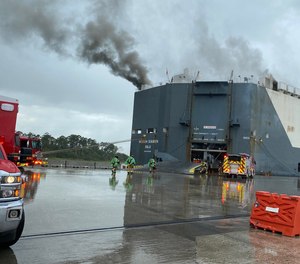 One of the four firefighters sent to the UF Health Shands Burn Center in Gainesville was released, Jacksonville Association of Fire Fighters President Randy Wyse said. Three who were being treated at UF Health Jacksonville have also been released, he said.
"We were very lucky last night to not have any deaths. It could have easily been a lot worse," Wyse said. "We had members inside of a ship, then there's an explosion that occurs. The first thought is that it is not good. We are very pleased that the injuries were not any worse than they are. They are serious."
The ship's owners, Norway-based H'egh Autoliners, also issued a statement thanking the fire department for its efforts.
"Our thoughts and prayers are with those firefighters and their families who were injured during this response," the statement read. "There are no injuries to any of the 21 crew members, who have all been evacuated from the vessel. There are no reports of any pollution. A safety zone has been established around the vessel as a precautionary measure."
The initial fire on board the 10-year-old vehicle carrier was reported about 4 p.m. on the seventh deck, just after the last of an estimated 2,400 wrecked and salvaged cars were loaded on board, H'egh Autoliners confirmed.
Jacksonville Fire Chief Keith Powers said one firefighter suffered from heat exhaustion battling the fire, and others were still inside the fully fueled ship when the explosion occurred.
All crew members were able to get safely off the ship before the explosion just before 7 p.m., according to the U.S. Coast Guard. Powers called it "probably the most dangerous firefighting that we do," with 150 firefighters battling the blaze at its height.
JaxPort issued a Friday statement saying it was "grateful for the quick response" from firefighters and is praying for the recovery of those injured. It said the Blount Island port facility remains open with a safety zone set up around the M/V H'egh Xiamen. But it asks that anyone working at Blount Island use extreme caution due to reduced visibility in the area.
Wyse said it was a cramped, hot and dangerous place, and the injured firefighters will "have a long road of recovery."
"When you have 2,400 vehicles crammed inside of a ship, it's almost like fighting a junkyard fire in a ship," he said. "They had difficulty climbing over cars and accessing the fire; very, very difficult and very labor intensive."
No firefighters have returned inside the ship since it is still an active fire, fire officials said. Fire officials are using infrared cameras to track hot spots on the ship's hull. Jacksonville fire boats have been spraying the H'egh Xiamen's hull to keep it cool, avoid any structural failure and prevent the ship's fuel tanks from catching fire.
The Coast Guard has established a 500-yard safety zone around the ship to contain any possible pollution, saying there has been no environmental impact so far. H'egh Autoliners has activated its emergency response team and is working with the Coast Guard and fire department "to secure the vessel and ensure the preservation of the local environment," its statement said.
This was the worst ship fire Jacksonville firefighters have battled in four decades. Fire Lt. Joseph F. Stichway was killed on May 25, 1979, as he tried to rescue workers trapped in the hull of a burning oil barge at the Jacksonville Shipyards, according to the fire department. Overwhelmed by gas fumes, Stichway fell off a 40-foot ladder in a blaze that left 21 other firefighters and six barge crew members injured.
Wyse said the firefighters union has a burn fund set up to help those injured and their families.
———
©2020 The Florida Times-Union (Jacksonville, Fla.)
Follow up on injured firefighters... all but 2 are expected to be released from the hospital today... one is going into surgery today, the other is scheduled to have surgery early next week... we thank the community and entire country for your continued support. #muchappreciated

— MyJFRD (@JFRDJAX) June 5, 2020
McClatchy-Tribune News Service