Nearly 500 responses keep St. Louis firefighters busy on July 4
A high volume of dumpster fires were attributed to the holiday weekend festivities
---
St. Louis Post-Dispatch
ST. LOUIS — As the St. Louis region got festive for the Fourth of July, area firefighters once again got busy.
St. Louis firefighters responded to 106 fire calls on Independence Day, and that was just a fraction of the nearly 500 responses the department provided for fires, medical emergencies and various other calls that day.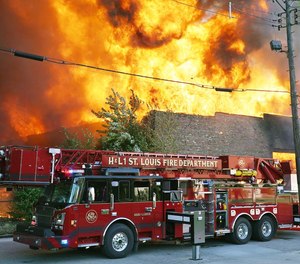 More than half of the fire calls, 54 in all, were dumpster fires, while 21 were grass or brush fires, and 11 were building or garage fires, officials said. Many of those were fireworks-related, though it can be tough to get a precise count, department spokesman Garon Mosby said Monday. He attributed the high proportion of dumpster fires to holiday celebrations, too.
"If a dumpster doesn't have a lid, a firework can errantly fly in there, or kids throw firecrackers in a dumpster to get a louder bang, (or) it's people cleaning up fireworks," Mosby said.
Every year as Independence Day approaches, fire departments issue pleas to residents to not set off fireworks, which are generally illegal in much of the area, including St. Louis city and county and the state of Illinois. Yet, every year as residents load up on fireworks for the holiday, area fire departments receive scores of related calls, sometimes with significant damage or injuries.
Mosby said city firefighters responded to only one fireworks-related injury call on Sunday.
The St. Charles Fire Department responded Sunday evening to a house fire that was determined to be caused by fireworks left in a trash bag against a home's garage. Two homes were damaged, but all residents and pets were able to safely evacuate, officials said.
"Please use this as a learning experience," a Monday post on the fire department's Facebook page reads. "Firework debris can remain hot enough to ignite for hours after use depending on the conditions. Do not ever place firework debris, fireplace embers or charcoal grill debris in a plastic container and do not store it in or near your home."
In St. Louis, calls were down this year compared with last Fourth of July, when city firefighters responded to 122 fires, including 72 dumpster fires.
"One thing that helped us out this year — last year we didn't have any public fireworks displays," Mosby said, referring to cancellations caused by the coronavirus pandemic. "Typically our line is, 'Please leave it to the professionals,' but since we didn't have that last year it was a lot busier. With the displays back, hopefully folks heeded the message and attended a professional display. You run into dangers with non-sanctioned displays of commercial grade (fireworks)."
In St. Louis County, Central County Emergency 911 reported responding to 81 fireworks-related calls, including 40 dumpster fires, 15 trash and debris fires and 15 brush fires.
___
(c)2021 the St. Louis Post-Dispatch
McClatchy-Tribune News Service