After Action Reviews for firefighter safety touted at FRI session
Richard Gist, principle assistant at the National Fallen Firefighters Foundation, outlined how AARs are the backbone of the military's operational culture
---
The fire service can bring about a cultural change and improve safety by looking to the military in adopting After Action Reviews, a session at Fire-Rescue International in Atlanta was told Thursday.
Richard Gist, principle assistant at the National Fallen Firefighters Foundation, outlined how AARs are the backbone of the military's operational culture, helping to monitor capacity, enhance capability and maintain accountability.
The key to their success, he said, is the fact they are done at every level for every operation, no matter how large or small, or simple or complex.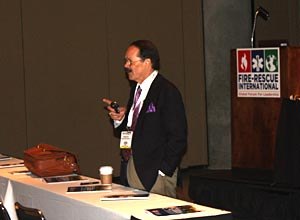 Gist told the session there are three basic principles behind the AAR process:
Organizational performance improves when learning is always a part of doing 
Learning is most effective at the individual and unit levels when it has local value 
Every encounter is an opportunity to improve
AARs can be conducted at the kitchen table or on the tailboard, Gist said, and it's vital to make every aspect of the call up for discussion, include performance, techniques, communication, coordination, roles and responsibilities.
As for the learning process of AARs, key things officers should look to do and look for include:
"Drilling down" to find root causes for successes and potential shortcomings 
Catch people doing things right 
Reconcile experience and procedure 
Determine whether the experience reinforces particular elements of procedure, or whether it suggests the need for refinement
By conducting AARs, departments can build upon the momentum the United States is seeing in reducing firefighter line-of-duty deaths, Gist said.
"When the fire administration began the strategy to reduce line-of-duty deaths by 50 percent in 10 years, how many of you thought we could do it?" Gist said.
"In 10 years, it's down 36 percent. That's a lot better than a lot of people thought we could do.
"We're getting there but it has not been easy."