At the epicenter: Seattle FD prioritizes testing and member safety
Fire Chief Harold Scoggins details the quick launch of the country's first responder-focused testing facility
---
On Jan. 20, 2020, a 35-year-old man presented to an urgent care clinic in Snohomish County, Washington – just north of Seattle – with a history of cough and fever. He disclosed to healthcare providers that he had just returned from Wuhan, China, where he had seen a health alert from the CDC about the coronavirus outbreak.
The following day, the man was diagnosed with COVID-19 – the first known case in the United States, although additional diagnoses were being discovered in other locations just days later, with new cases reported throughout the country nearly every day throughout February.
Thus began the country's nightmare pandemic, with Washington at the early epicenter, facing down an invisible enemy we had never experienced and for which there was no rulebook.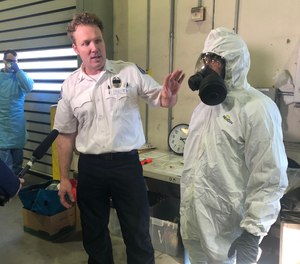 As the virus spread, many public safety agencies turned their eyes to Seattle, not only to preview what may be ahead but also to learn from the city's quick actions to protect its first responders, some of whom were quarantined and showing symptoms.
With COVID-19 tests in limited supply, Seattle public safety agencies recognized the need to prioritize the first responders on the front lines, treating patients, in order to help stem further spread and keep members safe.
With quick thinking, planning and drive, the city launched on March 14 the country's first COVID-19 testing site solely for first responders.
I spoke with Seattle Fire Chief Harold Scoggins about the push to open the facility, how it works, and what's ahead for Seattle as the city – and the entire country – continue to weather the storm.  
FireRescue1: What has it been like to be at the epicenter of the COVID-19 outbreak, with the Seattle area being an initial hot spot in the United States?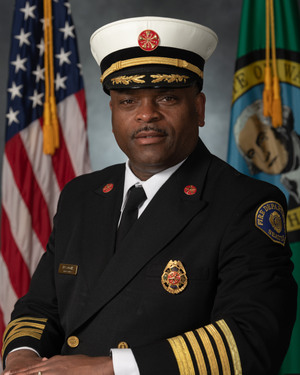 Chief Scoggins: There's multiple feelings that come into play. Sometimes anxiety, sometimes exhaustion because you're working so hard, sometimes we're probably lacking clarity because we're walking in a new space with a new disease. Excitement for the energy that our people are really putting forward to really make change in a rapid manner to meet the needs of our personnel that are serving community. Those are some of the feelings that come to mind immediately.
Did you see your department as being ahead of the curve in terms of fighting the virus and taking some of the social distancing and other precautions?
Yeah, and I think that's who we are as you know, specifically for the fire department, who we are as firefighters. Leading in difficult times and times that we may not understand, but not being afraid. As a community, really working hard to make a difference because we know the difference we make can have an impact on someone's life. That's important for us, too. All those things we saw early on and the community has really, really bought in, and it's very difficult to buy in on some of the things that we're facing right now.
Can you tell me a little bit about how the testing site came about?
It was driven by our firefighters. Our firefighters drive a lot of decision-making and that's where it should come from. Our firefighters are boots on the ground. They are seeing what can work best for our people.
Working with and through our medical director, Dr. Michael Sayre, and the King County Medical Director, Dr. Tom Rea, ideas were presented and brainstormed to try to figure it out because they saw a problem – how can we get our first responders the COVID-19 tests in a timely manner and get results back? We need to understand their condition if we're going to have a workforce to continue to serve community.
It's been just quite a challenge to get those tests due to lack of availability. So when our firefighters and our EMTs and paramedics presented this to our medical team, it made a lot of sense, and our medical director and the King County medical director wrote the proposal to the Washington State Department of Health, then put the program in play, put the training plan in play.
During this difficult time, the State Health Department, I can't thank them enough. They believed in what we put forward on our firefighters being able to do this and accomplish this in an effective manner – to be able to test our first responders.
There was a whole series of things that go with it. It's accessing a certain amount of the testing kits, from the swabs, to the viral media, to teaching our personnel how to do the swab, and get to the place they need to get to, which apparently is pretty deep in the nasal cavity, to get a good sample. How to package the sample, label it. Create that process.
Then our acting Lt. Brian Wallace [Seattle's EMS training coordinator], who's in charge of the chain of custody, carries the samples to the University of Washington Lab to ensure they get the tests in a timely manner. And then we receive the feedback immediately – the next day generally.
This has been quite an experience for us, and we're not in this alone. Seattle police EMTs, along with our firefighter-EMTs and paramedics, are the initial team.
It's now expanded into additional locations around King County, but we've tested not just Seattle fire and police officers, but also over 30 different agencies in our region –public safety, first responder agencies. It's not just for us but also our partners who we work with each and every day – firefighters, police officers, private ambulance partners and our dispatchers. That's a significant impact on our first responder community.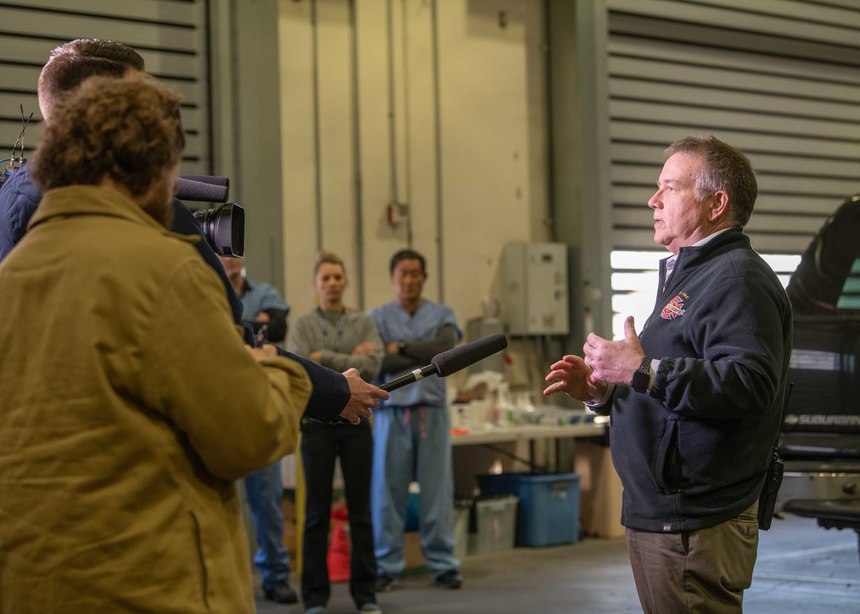 How did you identify the initial location?
It was our partnership with our police department under the direction of Police Chief Carmen Best. They immediately said, "Hey, we have a location," and that's where we set up. That's important because you have to have a secure space. We wanted it to be out of the weather, as some may know, it rains a bit from time to time. And having a place where you can drive in, stay in your car, and then you can drive out the other side; that was very important for us.
The site is staffed with six Seattle Police and three Seattle Fire personnel each day. We have recently moved the site another nearby Seattle Police facility in south Seattle.
How important was the interagency nature of this effort?           
Number one is you have to understand that first responders generally don't do anything alone, especially firefighters. You never see us riding on a rig alone. Even our EMTs, our fire engines, we know we're better together. And what we know is if we've identified this as a problem, others have the same problem. So how we communicate it was important.
How did you get the testing center ramped up and operational – and why was speed so essential?
We built a couple of avenues on the internet and with a survey that the individual had to complete, and we pushed that out to the region. The individual completes that. It lands in a database and it's reviewed by our medical director. And they make the determination, yes, bring this person in for a test, give them an appointment time, and they show up and we get it done.
A lot of things happened in a short period of time. I believe it was probably two Fridays ago, maybe three Fridays ago [March 13 or 20]. It's a blur. We were on the, on the phone with the State Department of Health seeking approval by 5 o'clock. We had that approval on a Friday. The next Saturday morning, the training started. That's how quick this turned.
We're on the front lines. We have a big responsibility during very difficult times. Normally the events don't last as long as this one. If it's a wildfire, if it's a hurricane or things like that, there's usually a finite end where you've been on enough of those; you can see it.
We know that this is going to be going for a while, so to maintain a healthy workforce, to continue to serve the community, we saw early on that this was very important to us. This was one of the ways that we can rule out or rule in a positive test of a firefighter. We knew the intentional steps that we had to take to get them back to good health. That was going to be important for us.
How many first responders have been tested, and of those, how many have received positive diagnoses?
As of Wednesday, April 1, we were at 235 tested.
Here in the Seattle Fire Department, there's been 16 positive diagnoses. There's close to 80 or so who have been impacted by connection to a person who had tested positive for COVID-19. We currently have 42 or so in isolation or quarantine right now.
What's next for Seattle Fire?
We're continuously looking for new ways to make it safer for our people so they can serve community well and better. We have put a process in play right now where we're doing a new training package for the entire department every four to six days, and that's really important for us. I think we just launched training package number five, and number six is coming soon, and we're about five weeks into it.
That training package covers multiple points. It covers how are we going to respond out in the community; how many firefighters are initially going in and how many are going to wait outside; how to disinfect your apparatus, your station and your equipment twice a day and the best practices there. It's covering any new equipment that we have launched.
Now we know at some point that that'll plateau, and we will have covered most of the things, but we're still pretty early on right now, so I see us continuing that process for the next several weeks at least until we have a comfort level that we have hit a lot of the things that we need to make sure our people have situational awareness on.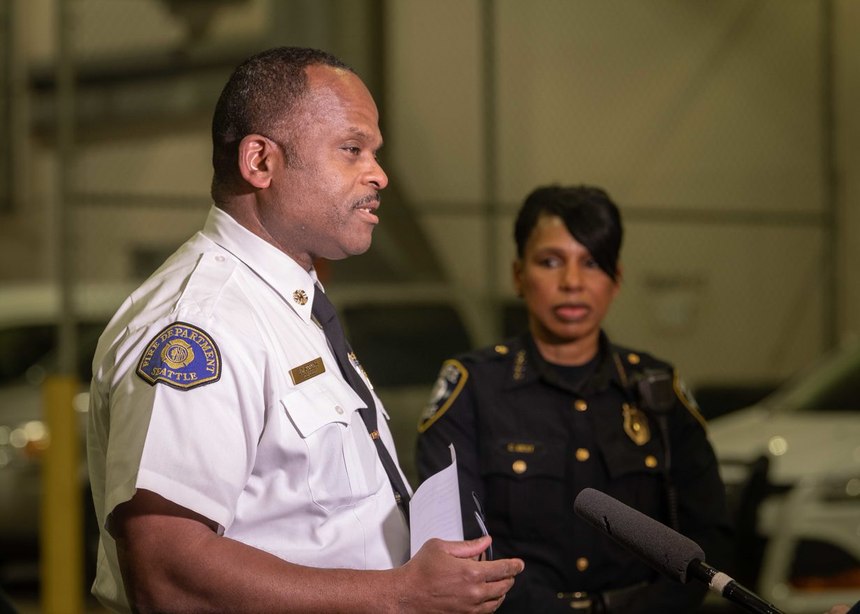 How has that communication worked during social distancing?
As for how we communicate, we have, just like rest of the world, really launched into these Skype and Teams and Zoom and GoToMeeting calls, and all of these different ways of communicating. But what we learned along the way is that we've done department-wide meetings multiple times over the last five weeks and over multiple days. So how we communicate can be real time, real Q&A, real exchange of information. There's been a lot of added value there for the organization using a lot of the tools that we had, but we really didn't have to use them. But now we do and we're actually finding some advantages there.
Is there anything else that you would like to mention about the department or how this is unfolding?
I do want to continue to voice the message that separation is important. Social distancing is important. That's really important to prevent or reduce the spread of this disease, the continuous handwashing and disinfecting your space. If it's your workspace, it's your keyboard and your desk. If it's your home space, it could be your nightstand or your kitchen counters. That's really important for us.
I also want to thank all of our first responders here in the City of Seattle and the region for all of the amazing work that they've done. Our firefighters have done an amazing job in really adapting to a changing environment that's literally changing before our eyes. The last eight or nine weeks have probably felt like a blur. It's created a bit of anxiety for a lot of people, but our firefighters show up each day, ready to serve. And there's something to be said for that. And that's every firefighter across this nation. It's a profession that I'm just so proud to be a part of, so.