Remembering Charleston: Two Years Later
---
By Jay Lowry  
As apparatus streamed into the scene on June 18, 2007, no one knew that hours later they would be witness to the largest line-of-duty death incident — after 9/11 —since Boston's Hotel Vendome in the seventies.
When the numbers began to be reported of firefighters missing, people were dumbfounded. One of the early numbers was 16 missing. Rumors swirled as a chaotic scene reigned. One thing was certain by this point: life would be altered for all involved.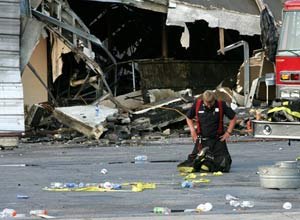 Nine brave firefighters died two years ago this week — which this year coincides with Safety, Health and Survival Week — in what can only be described as one of the worst examples of poorly run fire scenes in the last decade. A story unto itself, it pales in comparison to the story of nine individuals, forever frozen in time as the Charleston 9.
As we look back we note the positive change in the Charleston Fire Department. New Chief Tom Carr brought in Deputy Chief John Tippett to oversee an operations division starved of leadership.
Firefighters are taking part in a multitude of training classes and are now working on advanced skill sets. A public information officer, one of the best, is developing the relationships with the media to get information out in a timely manner.
Resolved in time
The weaknesses remain but it is only two years later. There are weak leaders in key positions, an aging fleet and a lack of money. These will be resolved in time.
A new headquarters building with a wonderful memorial is planned for the site where the tragedy occurred. Current and future fire chiefs will be reminded daily of the sacrifice made by the Charleston 9. It will help the staff to focus on their responsibilities as they see the consequences of a failure to operate a department in a modern setting.
On this day we think of the survivors; family members who show great courage through horrific loss, often serving as inspiration for all involved. Mothers like Dot Hutchinson persevering through the difficult days.
Firefighters show remarkable resilience, embracing change while honoring their lost brothers. Answering calls, learning skills and teaching a new generation of firefighters to honor those who were swept away on a horrific night, Charleston firefighters work for their city, for each other. The message is clear: don't think it can't happen again.
There are those who have left the department on disability because of the trauma experienced. Still members of the brotherhood and now, more than ever, deserving of our care and best wishes.
This author thinks of the nine each day. They exist not as an abstract piece of data or a statistic. They are men who walked into a fiery hell but who, in my mind, exist today not as "The Charleston 9", but as:
Billy Hutchinson, Mike Benke, Louis Mulkey, Braid Baity, Melvin Champaign, Michael French, Earl Drayton, Brandon Thompson and Mark Kelsey.
Forever etched into our memories as they were that day, prior to the fire. They will always be young and forever heroes.