Adapting to a pandemic: The Tucson, Arizona, FD approach to COVID-19
Detailing the department's adjustments to member health, patient care and transport, and PPE
---
By Sharon McDonough
COVID-19, a little-known term merely a month ago, is now consuming the full attention of many healthcare workers and administrators, and first responders are no exception.
Here in Tucson, Arizona, all hands are on deck to encourage a united approach to this pandemic and ensure the safety and well-being of the fire and EMS personnel on the front line, as well as the citizens that we so proudly serve.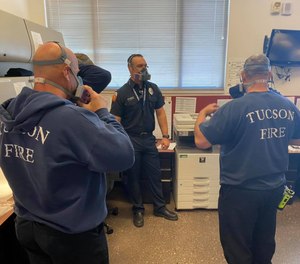 Our troops and our communities' most vulnerable members count on our agencies' joint efforts to help provide an emergency response system that remains robust and reliable as this pandemic continues to grow. Here's what we're doing to help make this happen.
Wellness in focus: Patients and members
Pandemics can have a rapid and disastrous impact on first responders, healthcare workers and the healthcare system as a whole. It is imperative that we keep our workforce healthy, but we must also make certain that our workers are not adding to the problem.
Within the Tucson Fire Department (TFD), daily wellness screenings have been initiated to confirm that each of our front-line response personnel are well, prior to any interaction with our public. This simple measure allows us to identify illness early so that our members get the care they need without delay. It also allows us to assure the public that our responders are healthy and ready to aid them in their time of need.
Tracking of exposures and outcomes is being enhanced to ensure a quick notification back to our crews regarding confirmed cases.
Further, we have created a response guideline document specific to presumptive COVID-19 incidents, inclusive of enhanced caller queries and pre-arrival instructions, as well as on-scene infection control and patient care modality changes.
With guidance from our county health department and our medical director, we have directed our 911 center to initiate a deeper screening of potential COVID-19 incidents. We have also asked that they instruct the caller to move the patient to an outside location, prior to the arrival of EMS. These simple changes allow our responders to have additional information about the incident to which they are responding and allows them to interact with their patient in a less-contaminated atmosphere, reducing the potential for exposure.
PPE: Managing limited supplies
With PPE in short supply across the nation, on-scene crews are limiting the number of personnel in direct contact with the patient. In most cases, one provider is performing patient care, beginning with a "doorway assessment" that allows initial information gathering to take place from a safe distance. Surgical masks are immediately applied to the patient, temperature checks have moved to the front of the line of assessment modalities, and each responder has been outfitted with a 3M half-mask with a P100 filter for use in lieu of the rapidly dwindling supply of N95 masks.
To further avoid contamination, crews have been permitted to forego patient signatures on our electronic tablets.
Patient care and transport
Patient care guidelines have shifted to increase provider safety when interventions most likely to aerosolize the virus are necessary. Use of high flow oxygen, suctioning devices, nebulizers and bag valve masks require the provider to be in full PPE and to discontinue the intervention when entering open spaces within the receiving hospital.
Patient transport guidelines and rider restrictions have also been implemented. Patients are wrapped in disposable blankets prior to transport, and crews are directed to seal off the patient care compartment from the driver's compartment, with rig ventilation systems turned to non-recirculating and all vents open. Except on incidents involving a minor or a woman in labor, no riders are permitted, and those who are must ride in the patient compartment and wear a mask. This parameter is in alignment with a recently implemented moratorium on visitors at all local hospitals.
Ancillary actions
Our Tucson Collaborative Community Care team (TC-3), initially put into place to address the frequent 911 user population, has suspended new intakes, instead gathering and focusing its array of community partners on ensure that the most vulnerable members of our community are well-cared for.
Team members are calling individuals to ask if they have safe access to food and prescriptions, how they are accessing it, and what ongoing medical needs they may have. An inventory of agencies providing services through this time is being conducted, and workload distributed, with TC-3 navigators filling gaps on transportation and sometimes, groceries.
We are working closely with the county health department to track potential and confirmed cases as we all work to stay ahead of and prepare for the impact of this virus on city, county and department resources. Educational videos for city employees have been produced and shared, and informational material regarding our response is being distributed to those locations who historically utilize 911 services on a frequent basis, like care homes and urgent cares.
What's next: Remaining fluid and agile
As the COVID-19 pandemic progresses, the need to remain fluid and agile in our response remains paramount. New information is being provided by the hour and agencies must keep up.
Key leaders within our department are meeting daily and are coordinating with city and county leadership as well as area hospitals to ensure a coordinated approach.
We are examining new response model options, stay-at-home and alternative destination protocols and options for alternative standards of care.
We are the standing army
The faith that communities place in their first responders cannot be rivaled. We are their standing army, ready and able to serve 24/7. It is incumbent upon each of us to help ensure a healthy and protected workforce and expedited patient triage and care, allowing our fire, EMS and medical care systems to function efficiently during this difficult time.

Stay safe, stay well, do good.
ABOUT THE AUTHOR
Sharon McDonough is the deputy chief over the EMS Division for the Tucson (Arizona) Fire Department. McDonough was hired by TFD in 1990, progressing through the ranks of firefighter, paramedic, captain, battalion chief and deputy chief, and recently served a two-year appointment as interim operations assistant chief. During her 15-year tenure as chief officer, she has managed fire operations, medical administration, safety and the 911 communications center, developing and implementing innovative solutions to long-standing and trending industry issues.