Mayoral candidate wants to bring back Ind. City-run ambulance service
Kokomo mayoral candidate Kevin Summers claimed residents have seen delays in receiving medical assistance because of no available ambulances
---
By George Myers
Kokomo Tribune
KOKOMO, Ind. — Democratic mayoral candidate Kevin Summers detailed his platform for the first time Thursday evening, describing needs he believes range from road construction reversals to the return of a city-run ambulance service.
Summers, joined by family and a coterie of supporters inside The HuB Downtown, laid out an agenda of items that in many ways serve as a rebuttal to the last 11 years of Kokomo Mayor Greg Goodnight and assuage the concerns of residents who believe the city has misplaced its focus on public safety.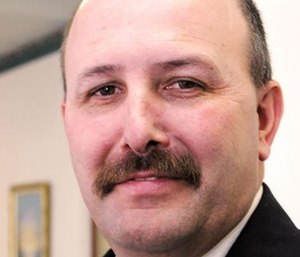 The Democratic primary race that Summers thrust himself into in mid-December, however, made an unexpected turn on Monday when Goodnight announced that he will not seek a fourth term.
Summers, in fact, had planned to hold his formal kickoff event that night before rescheduling it for Thursday.
The longest-serving mayor in Kokomo history, Goodnight broke the shocking news with a scathing speech that called on Summers and Republican Tyler Moore to drop out of the mayoral race.
That call has gone unheeded.
"Working on the Kokomo Police Department for 21 years and taking the oath of office to serve and protect, I have heard your cries," said Summers, a former Kokomo School Board member, Common Councilman and KPD captain.
Summers, who at one point gave out his personal cell phone number to emphasize the campaign's "open door policy," led off his policy points by criticizing a reduction in Kokomo firefighters during Goodnight's tenure.
He said fire staffing cuts "created the elimination of our ambulance service within the Kokomo Fire Department."
In May 2009, the city made the cost-based decision to take ambulance services away from the KFD and place them in the hands of St. Joseph Hospital – now named St. Vincent Kokomo – and Community Howard Regional Health.
The move saves Kokomo north of $1 million annually, say city officials, in part through eliminated firefighter salaries, but Summers said Thursday that it puts local residents at risk, claiming that residents have seen delays in receiving medical assistance because of no available ambulances from the hospitals or volunteer fire departments.
City officials have disputed that assessment.
"I will support proper staffing levels to maintain an ambulance service within the Kokomo Fire Department for the protection of our firefighters, our citizens and our businesses," Summers said.
Summers said he will provide data to back up many of his claims as his campaign proceeds, along with cost figures and budgetary plans.
In conjunction, Summers said he will bolster the city's police staffing levels. He did not provide a number of officers he believes to be sufficient.
The KPD now has 80 officers, said a department spokeswoman this week. Summers said his calculations show the department has 78 officers.
Meanwhile, Summers' own time on the police force has become the biggest hurdle for his campaign to jump.
Goodnight repeated accusations Monday that Summers decided to run only after the mayor refused to violate KPD procedures and hire his son.
That same accusation was thrown at Summers by Howard County Democratic Party Chairwoman Kathy Skiles the day he announced his candidacy.
The party has disowned Summers' campaign, although Summers showed up at a party meeting last Monday to discuss "the democracy of our country" and how "it's everybody's God-given right to be able to run for an office," he confirmed in an interview.
But his speech Thursday stayed focused on police staffing.
"These low levels of staffing prevent officers from being proactive in law enforcement to merely being reactive and only able to respond to a victim of crime, instead of preventing the crime from happening in the first place," said Summers, who also proposed a public-private partnership to bring a long-term residential rehab facility to Kokomo for addicts affected by the drug crisis.
"Officers are dispatched to calls and are often in need of backup, but no other units are available. Also, there are many times that no officers are available to answer a call for service, leaving our citizens with delayed response times when they are in need."
In accordance with his proposed hiring spree, Summers said he wants to hire more city employees after hearing concerns from residents about "the amount of time their limbs are left near the curb, streets not being swept to remove dirt and debris and potholes not being filled in a timely manner."
Summers said in an interview that he would get the money to hire firefighters, police officers and other city employees in part by eliminating the "excessive" funds spent on road diets, bump-outs and other construction methods.
He added that he wants to re-design some streets and remove bump-outs.
"Now, don't think I'm stuttering here, but I will use the word multiple times," he joked. "Many, many, many of you have expressed extreme dissatisfaction with narrow roadways and bump-outs."
Summers cited multiple locations he believes have become hazardous for drivers: Apperson Way from Markland Avenue to Home Avenue; Home Avenue from Markland Avenue to Hoffer Street; a bumpout at Madison Street and Apperson Way; and Markland Avenue from Park Road to Berkley Road.
"Although these are the areas of most concern, we will evaluate other locations to ensure they meet the safety and needs of our citizens," he said, criticizing recent Markland Avenue construction.
"I'm calling on the mayor's office, the city council and the Board of Works to stop any future plans of narrowing of roads or additional bump-outs."
Copyright 2019 Kokomo Tribune
McClatchy-Tribune News Service