Fire Prevention Week 2020 to focus on kitchen safety
The National Fire Protection Association reports that nearly half of all home fires involve cooking equipment
---
By Laura French
QUINCY, Mass. — The theme of this year's Fire Prevention Week will be "Serve Up Fire Safety in the Kitchen," the National Fire Protection Association (NFPA) announced. 
The week-long NFPA-sponsored event will take place from Oct. 4 to Oct. 10 and tackle the leading cause of home fires: unattended cooking and cooking equipment.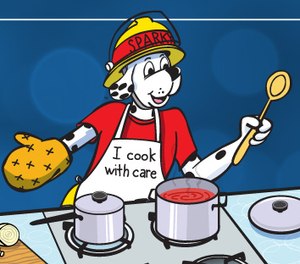 "Cooking continues to be a major contributor to the home fire problem," said NFPA Vice President of Outreach and Advocacy Lorraine Carli, in a statement. "The good news is that the vast majority of these fires are highly preventable. This year's Fire Prevention Week campaign works to better educate the public about where potential cooking hazards exist and basic but critical ways to prevent them."
Nearly half of all home fires involve cooking equipment, with unattended cooking being the most common cause of these fires, according to the NFPA.
This year's theme includes key messages about never leaving cooking unattended, keeping flammable objects such as towels and food package at least three feet away from stovetops, and not using stoves while sleepy or after consuming alcohol in order to stay alert. 
Resources to help promote the campaign will be available on the Fire Prevention Week website. The NFPA also urged participants to take appropriate measures to prevent exposure to COVID-19, with additional resources available on the association's coronavirus response page.