NFPA Meeting Targets Safety Challenges Facing Large Urban Populations
---
By Billy Hayes
From September 21 to 22, 2009, the NFPA hosted more than two dozen fire service/public fire and life safety education professionals from around the country for the Urban Fire Safety Task Force meeting in Quincy, Mass. The focus of the meeting was to discuss previous Task Force recommendations, as well as emerging trends that are being experienced in the public fire and life safety education arena.
The Task Force consists of various departments that serve urban populations of more than 250,000. Organizations in attendance ranged from the District of Columbia to Los Angeles, from El Paso to Minneapolis, from Charlotte to Hamilton, Ontario, as well many more in between. All are facing similar issues — the increase in fire deaths and a reduction in public fire and life safety education funding.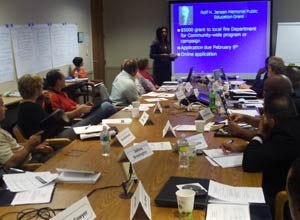 The inaugural meeting of the Urban Fire Safety Task Force was held in November 2008. However, the NFPA identified a need in 2006 to reach high-risk individuals in urban areas that may face various factors. Those factors include economic, immigrant, and social/cultural variables. In addition, fire service organizations serving those populations experience challenges such as reduced funding, difficulty with access to larger school systems, and sustaining smoke alarm and other educational safety programs, just to name a few.
From the 2008 meeting, the Task Force made several recommendations that were discussed and revisited at this meeting. The recommendations include:
Urban fire chiefs should support public fire and life safety education as an important role for the fire department.
Integrate public education and outreach programs into the traditional duties and responsibilities of all members of the fire department.
Smoke alarm installation programs should be a part of the service that urban fire departments provide for their residents. 
Include fire safety education as part of a child's formal education.
Partner with the area agency on aging, community centers, and places of worship to reach older adults.
Every fire department should have an individual to reach out to the immigrant population.
Fire department officials should use proven methods of community outreach to identify the key leaders and organizations that serve the individual targeted communities.
At the meeting last month, attendees prioritized two additional issues. The first is that there should be better tracking of incidents where a smoke alarm is present and activates as required. This data can identify key success stories to assist in the validation of smoke alarm programs. Data included should address the number of lives saved and the value of property saved. However in many cases, the fire department may never be called for incidents where early smoke alarm notification exists. Fire departments should encourage the public to report success stories to their local fire departments for informational purposes.
The second issue that was identified was to address public fire and life safety education training in firefighter recruit training. The group discussed the question that if we keep doing the same thing, how can we expect different results? Culture (attitudes and behaviors) will not change if public fire and life safety education is not emphasized at the early stages of a firefighter's career, specifically in recruit school. Some of the issues associated with this trend include the removal of public fire and life safety education from basic firefighter training, and the lack of public fire and life safety educator training at the local or regional level.
The NFPA presented the status of public fire and life safety education programs that are available such as Learn Not to Burn, Risk Watch, and Remembering When. These programs have been proven and are successful. In addition, the Home Sprinkler Initiative was discussed and the latest stats were presented. Fire service professionals should be informed and educated about residential fire sprinklers and have their voices heard in support of sprinklers for civilian and firefighter safety.
The results of this meeting will soon be released by the NFPA as this is only a brief synopsis from an attendee's experience. In addition, attendees will continue their efforts and communications through Google Groups, Facebook, and Twitter. A future meeting for 2010 in Las Vegas is scheduled to be the next formal meeting of the Urban Fire Safety Task Force. For more information, please contact the NFPA and they will be more than willing to assist.