Report: 34 UK high-rise buildings fail fire safety tests
Urgent testing is being conducted on external siding panels on apartment blocks following the deadly Grenfell Tower blaze
---
Associated Press
LONDON — Britain's government now says cladding samples from 34 high-rise apartment towers across the country have failed fire safety tests.
Earlier Saturday, officials had put the figure of affected tower blocks at 27, saying they are located in cities from London to Manchester and Portsmouth. Urgent testing is being conducted on external siding panels on apartment blocks following the deadly June 14 blaze that engulfed Grenfell Tower, killing at least 79 people.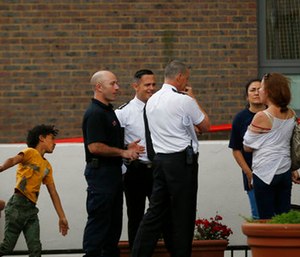 Flammable cladding was blamed for helping that fire spread so rapidly throughout the 24-story building.
Officials in north London's Camden area have been evacuating hundreds of residents from four public housing blocks on Friday and Saturday after fire inspectors found issues with the buildings' cladding, gas pipe insulation and fire doors.