UL FSRI releases video series to show speed of home fire spread
The videos, coupled with the institute's annual survey findings, align with the start of Fire Prevention Month to encourage fire safe behaviors
---
By FireRescue1 Staff
COLUMBIA, Md. — UL's Fire Safety Research Institute (FSRI) announced today the release of new fire safety videos that combine more than 10 years of data with custom 3D modeling and real-world footage from the organization's full-scale fire experiments. The video series, which coincides with the beginning of Fire Prevention Month, will be released throughout the month.
The first video in the series shows how a home fire grows and spreads, underscores the dangers of smoke, and encourages everyone to have and practice a fire escape plan, including what to do if they cannot escape. Subsequent videos in the series show fire growth and spread in different types of homes ranging from a high-rise apartment to a two-story single-family house. Regardless of the type of home, however, FSRI stresses the need for a plan A, B and C with two ways to get out of every room and options for when you cannot escape.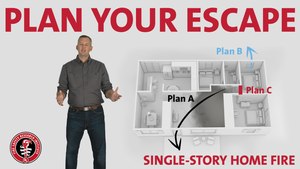 Additionally, FSRI released its annual consumer fire safety survey, which found that roughly one-third Americans (32%) do not have a fire escape plan for their home, and of those who do have a fire escape plan, 21% say they have never reviewed or practiced it.
Other highlights from the fire safety survey include: 
Despite the fact that half of Americans believe it's safer to sleep with their door closed in the event of a fire (50%), an equal amount indicate that they still sleep with their door open at least some of the time (50%). Everyone should Close Before You Doze.
41% of Americans believe that they would not have enough time to gather what's important to them and safely exit their home in the event of a fire, a sizeable increase from 2021 (31%) and 2020 (30%).
Gen Z and millennials are less likely to think smoke inhalation is the most common cause of death in a home fire, with only 53% choosing this response (vs. 71% of their older counterparts).
UL FSRI fire safety videos and additional resources, including a how-to guide for creating your own fire escape plan, can be found at CloseYourDoor.org.
Read additional Fire Prevention Week content.