Polaris presents Fire and Rescue RANGER, PRO XD, GEM and Taylor-Dunn Vehicles at FDIC
The vehicles deliver on- and off-road, in- and outdoor, gas, diesel and electric options
---
By FireRescue1 Staff
MINNEAPOLIS — Polaris Government and Defense has expanded its offering of the off-road and over-the-curb RANGER fire and rescue vehicles to include the street-legal GEM and indoor-use Taylor-Dunn electric vehicles. These vehicles will be on display at FDIC booth #8229
The Polaris RANGER is designed to help firefighters reach challenging locations, including narrow passage ways and secluded lots, as well as rugged, off-road trails, beaches and park terrain. The vehicle's sightlines and mobility also make it usable for city events and heavily populated areas.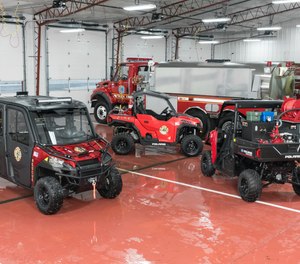 The RANGER firefighting units are Polaris' off-road and over-the-curb solution, incorporating a pump, hose and reel, a combination tank for water and CAFS, and the ability draft from a water source. Mounting options can accommodate preferences for different departments and uses.
Rescue RANGER vehicles incorporate a rear attendant seat and a Stokes rescue basket. Rescue personnel can select between the full-length or compact basket for shorter overall length. Polaris is also providing a combination fire and rescue package, which includes the fire tank and equipment as well as the Stokes rescue basket.
The Taylor-Dunn Bigfoot is Polaris' all-electric solution for indoor and closed campus use with an ergonomic design, narrow width and tight turning radius. The fire and rescue Bigfoot options include non-marking tires, rescue skid, attendant seat, emergency lighting, AED and medical bag storage areas, siren and firefighting equipment.
The GEM eL XD is Polaris' all-electric street-legal fire and rescue vehicle. GEM is a commercially produced, street-legal, low-speed vehicle, and generates zero emissions. The fire and rescue GEM has a full gurney, attendant seat, oxygen bottle bracket, two IV bag clips, optional AED and medical bag storage.
The PRO XD is Polaris' diesel utility task vehicle (UTV), which was designed with an increased payload, greater durability and better serviceability. It is highly customizable, including the ability to incorporate fire and rescue equipment. The PRO XD will be displayed by Darley Defense.
Contact the Polaris Government and Defense team for more information.

Request product info from top Fire Apparatus companies
Thank You!