Firefighter saves chihuahua with mouth-to-snout
'Pony' had been trapped inside an RV destroyed by fire
---
ClickOrlando.com
ADDISON, Texas — Firefighters are trained to face the unexpected, but what Capt. Scott Ledet came face-to-face with isn't covered in the manuals.
It all started when Yvette Childers' RV suddenly burst into flames. She made it safely outside, but her chihuahua, Pony, was trapped inside.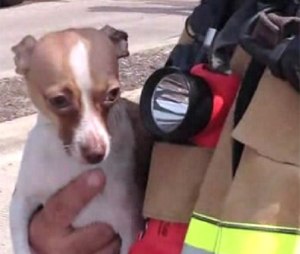 By the time Addison firefighters reached the dog, her health appeared questionable. That's when Ledet stepped in to save the day. "I just started performing CPR like I would if it was any other person," he said. "It never really crossed my mind to not do it." Ledet performed CPR and mouth to, well, snout for 20 minutes. His efforts saved Pony from the big doghouse in the sky.
Full story: Firefighter saves chihuahua with 'mouth-to-snout'