9 facts about fire
Important information to keep you informed about fire safety
---
Updated Oct. 14, 2016
Whether you are hoping to join the fire service or a firefighter charged with educating the public on fire safety; here are nine things everyone should know about fire behavior.
1. Understand the fire triangle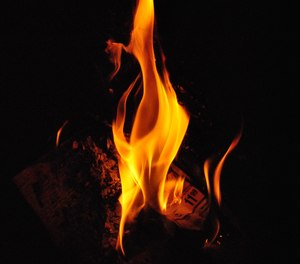 A simplified cousin to the fire tetrahedron, the triangle represents the three components that fires need to exist: heat, oxygen and fuel. If one of these components is missing, a fire can't ignite.
Heat can be generated by a cigarette, an electrical current or a home heater. Fuel can be anything combustible, such as wood, paper, clothing, furniture, gases or chemicals.
Once a fire starts, if any of the three components is removed, the fire is extinguished. Water is used to cool a fire and take away the heat source. Oxygen can be removed by smothering a fire with dirt, sand, a chemical agent or a blanket.

Fuel can be removed by moving combustible materials away from the fire or by simply waiting until the fire consumes the material and goes out of its own accord.
2. Fire kills
Every year more than 3,800 people die fire related deaths in the U.S. Approximately 18,300 people are injured every year in fires. Most of these fires could have been prevented by practicing proper fire safety and having fire alarms. On average more than 60 firefighters die every year in the line of duty.
3. It's in the kitchen
Most house fires start in the kitchen. Cooking is the leading cause of home fire injuries. Cooking fires often start from overheated grease and unattended cooking. Electric stoves are involved in more fires than gas stoves.
4. Leading causes of death
Another fact about fire is that smoking is the primary cause of death by fire in the U.S. The second cause of fire deaths is heating equipment.
5. Arson
Arson is the third most common cause of home fires. Arson in commercially operated buildings is the major reason for fire deaths and injuries in those types of properties.
6. Smoke inhalation
More people die from smoke inhalation than flames. Fire can suck all of the oxygen from a room and replace it with poisonous smoke and gases before flames even reach a room. Many times people die from lack of oxygen before the fire reaches their room.
7. Run report
According to the NFPA, firefighters in the U.S. were called out on 501,500 structure fires in 2015. Between 2007 and 2011, there was an average of 2,570 civilian deaths and 13,210 civilian injuries per year, and a total estimated cost of $329 billion in 2011.
8. Candles
Candles caused approximately 9,300 home fires and 86 home fire deaths between 2009 and 2013. They were also responsible for 827 injuries and $374 million in property damage.
9. Smoke alarms 
Approximately two-thirds of all fire deaths happen in homes where there's no working fire alarm. Your chance of dying in a home fire is cut in half if you have a working smoke alarm.