Bulletproof vests – the next PPE for firefighters?
---
By Jamie Thompson
FireRescue1 Editor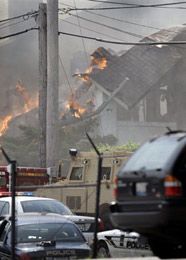 AP Photo/Jeff Roberson
The roof collapses on the house where the gunman involved in the shooting was believed to barricaded Monday.
The fatal shooting of a firefighter in the St. Louis suburb of Maplewood on Monday goes beyond incident scene safety. Nobody could have predicted the tragedy that was about to unfold as Ryan Hummert stepped off his fire truck at the scene of what appeared a routine vehicle fire.
Ensuring correct PPE is being worn, being wary to the threat of projectiles exploding — all are things associated with a size-up at such calls. But gunshots?
Sadly, fireground shootings aren't that unusual. Last week, a bullet struck an air tank worn by a firefighter at a house fire in Indianapolis after two photographers at the scene were shot. And last month, a fire investigator from the Chicago Fire Department at the scene of an apparent firebombing of a property was struck by a bullet below his left ribs — becoming the first city firefighter shot in the line of duty in about 40 years.
Chief Dan Jones, of the Chapel Hill, N.C., Fire Department believes shooting incidents involving firefighters and EMTs are becoming more and more frequent and warns of a growing need for better awareness and protection. His concern is reflected in the fact he recently submitted a $40,000 federal grant to purchase ballistic vests for all on-duty personnel.
Below are a few different perspectives on Monday's incident and the broader issue of firefighter shootings. Chief Jones explains why he thinks body armor should become a routine part of PPE, FDSOA western region director Michael Petroff discusses Monday's tragedy from a safety officer's standpoint and Maplewood city manager Marty Corcoran reflects on the city's first line-of-duty death.
Dan Jones, Fire Chief of the Chapel Hill, N.C., Fire Department
"My first reaction to the tragic shooting of a firefighter in Maplewood was shock and hurt for that department's loss, but then I quickly realized that we should not be surprised because it is happening more frequently. And it can happen anywhere, in any community and at any time. Attacks on first responders have become one of the risks of emergency services and we need to prepare (as best we can) for such.
"Firefighters and EMS personnel frequently find themselves in contact with mentally/emotionally disturbed individuals, angry individuals, gang members, criminals and other people who are high risk for violent behavior. The size and geographic location of their community does not matter.
"Recognizing this growing risk to our responders is one of the factors that led me to apply for a Fire Act Grant this year under the PPE category for ballistics vests for all of our on-duty personnel. It is a sad statement but I believe active shooter situations have become common enough that firefighters and other emergency responders should have benefit of the same bulletproof protection that our brothers and sisters in law enforcement enjoy. A bullet proof vest should be considered the same as SCBA, medical gloves, a helmet or a bunker coat; just another PPE tool.
"We have also started to include our Chapel Hill firefighters in active shooter training drills and gang awareness training with our police departments so that they can react properly under shooting situations. Sadly, any public safety uniform can become a target. Our hearts go out to The Maplewood FD, the Hummert family and Chief Merrell."
Michael Petroff, retired battalion chief from the Ferguson Fire Department of St. Louis County and western region director for the Fire Department Safety Officers Association
"As the incident unfolded on TV and on radio, I thought of the safety of firefighters and "managing" an incident with known factors. Then I thought of the situation the Maplewood crew thought they were responding to; a car fire at an intersection of a busy street, early morning, probably a routine call.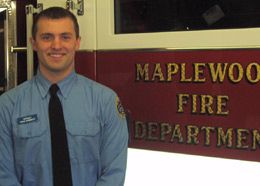 Photo courtesy of Maplewood FD
Ryan Hummert had been with the department for 10 months.
"Then as the incident changed, I thought of procedures designed to protect firefighters — retreating and handing the incident over to the police. At that time no reports of injuries were being given. The only injuries later reported were of police officers with minor injuries. Later as the real details were released, we learned of the death of a rookie firefighter/paramedic.
"Ryan had 10 months on the department. The unknown, uncontrollable factors had deadly consequences. We cannot control all facets of response. The NFFF Life Safety Initiatives call for "protocol when responding to violent incidents." Well, this was not a violent incident until the first shots were fired. Safety officers think of respiratory protection and management of the roadway on vehicle fires. Not one safety officer would think of this call having the outcome that it did. Our prayers go out to Ryan's family and fellow firefighters."
Marty Cochran, city manager of Maplewood and a close friend of Firefighter Hummert's family
"The department is in a state of shock. It will take a long time for them to overcome this situation. The city of Maplewood has never lost an employee in a line-of-duty death.
"I have known this young man since the day he was born. Telling his family what had happened was the toughest thing I have ever had to do in my life.
"I think the family and myself could better accept this a lot better if he had died as a result of a fire situation. But you never expect as a firefighter to be shot in cold blood. When you go to a routine fire, you never think you could be murdered."

Request product info from top Personal Protective Equipment - PPE companies
Thank You!