Hurricane Florence: 5 flooding safety tips firefighters should follow
Know and understand these five important safety tips to be taken when working in a post-hurricane environment
---
Meteorologists and disaster response professionals are comparing Hurricane Florence to Hurricane Floyd, a storm that made landfall near Cape Fear, North Carolina in 1999. The former is a massive storm that's been forecast to dump rains that will be measured in feet; the latter was also a massive storm that, while it moved quickly through North Carolina, delivered torrential rains over a land mass that was already saturated by a previous storm.
More recently, last year's Hurricane Harvey off the Texas coast, stalling over the Houston region, and Hurricane Irma's travel through Florida and Georgia, created massive flooding that resulted in untold numbers of water rescues, millions of dollars in damage to critical infrastructure and polluted floodwaters. Both of those storms highlighted lessons learned regarding rescue, evacuation and management of victims from Hurricane Katrina in 2005 and its devastating strike on New Orleans and the gulf coast of Louisiana and Mississippi.
Hurricane Floyd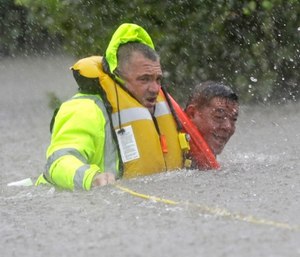 When Hurricane Floyd struck North Carolina in 1999, it came just 10 days after Hurricane Dennis had soaked 10 to 12 inches of rain on the eastern part of the state. When Floyd made landfall near Cape Fear, North Carolina in the early morning hours of Sept. 16, the storm began dumping massive amounts of rainwater — what would eventually measure 15 to 20 inches of rain in some parts of the state — over a 12-hour period [1].
After Floyd flooding
The costliest damage came not from the storm itself, but from the swiftly rising rivers and creeks that flow through eastern North Carolina like a dense cluster of capillaries connecting the Piedmont Region of the state to the Atlantic Ocean [2].
Hurricane Floyd moved through the state quickly and by midday on September 16, the winds subsided, and the sun peeked through the clouds. A sense of normalcy had returned to the region even though electricity was out in many places and would be for days.
Later that night, however, several of the main rivers in eastern North Carolina (the Tar, Neuse, Roanoke, and Pamlico) and their tributaries overran their banks and spilled over into urban areas, trapping people on the roofs of their homes and cars even as the waters washed away roads they might have used to escape [3].
The waters rose and flowed into agricultural and livestock farms drowning millions of chickens and hundreds of thousands of pigs. Floodwaters swept through sewage plants, contaminating the water supply in many communities. This toxic soup of dead and decaying animals, animal waste, pesticides, and other chemicals would come to be known as one of the worst environmental disasters in U.S. history. The waters finally crested as high as 24 feet above flood stage along the Tar River, where they all but erased the town of Princeville [4].
Floodwater safety tips for firefighters
Floodwaters present an especially hazardous environment for emergency responders as those floodwaters likely contain human and animal waste, petroleum products and chemicals. And then there are the physical hazards of floating debris, displaced propane tanks of all sizes and construction materials from destroyed buildings.
With Hurricane Florence coming ashore in relatively the same region of North Carolina, emergency responders will likely face many of the same floodwater hazards as did their predecessors during Hurricane Floyd in 1999. Events from Hurricane Harvey, such as the disastrous flooding, explosion and fire at one of the largest petrochemical plants in the region, demonstrate for emergency responders the need to be aware of potential hazards and the impact of flooding on those hazards before the rains come.
While there are host of safety measures to be taken when working in a post-hurricane environment, here are five important safety tips that are pertinent for firefighter operations around floodwaters.
1. Full decon
Members who have entered such areas should be fully decontaminated as soon as possible. PPE and clothing should be washed in-station using the most appropriate means. Jeffrey and Grace Stull wrote after Hurricane Harvey, "In some cases, it may not be possible to effectively clean and decontaminate protective clothing, especially when the gear has been saturated for long periods of time and it is not possible to identify all the potential contaminates. In these instances, it may be necessary to retire and dispose of the clothing in the interest of safety."
2. Know your apparatus
Officers and fire apparatus operators must be familiar with the location and height of air intakes and computer modules that might be subject to flooding and resulting in engine shutdown or other problems [5].
3. Floodwaters may make roads impassable
Don't drive emergency vehicles through floodwaters until the officer has determined that the passage may be done safely. This requires checking the depth of water, current and the stability of the road surface under the water. When in doubt, turnabout and get out!
4. Wear water rescue PPE
Fire officers should be cautious about permitting members to work in or around areas with floodwaters. Personnel working in these conditions must wear appropriate level personal flotation devices (PFDs), Class III or V. Recreational PFDs are not acceptable for emergency responders working around floodwaters, especially moving water. Water rescue helmets should also be worn when available. 
5. Structural firefighting PPE is not suitable for water rescue
Personnel should not wear structural firefighting PPE when operating around floodwaters. Fire officers should ensure continuous monitoring of water depth and velocity when members are working in or near floodwaters as both can change rapidly and without warning.

Request product info from top Personal Protective Equipment - PPE companies
Thank You!