Beware of exploding struts
---

By Mark van der Feyst
Almost every vehicle in North America has some type of a strut located somewhere. Whether it is under the hood, in the hatchback or in the read door, they help us with opening and holding the item open.
While useful for this purpose, they also can be extremely dangerous during firefighting and rescue operations. This photo shows a strut that has exploded during a vehicle fire. The explosion can turn the strut's extension piece into a missile or cause shrapnel to fly out from and around the cylinder.
Be sure to notice where the struts are located within vehicles and when cutting or fighting a fire, be aware of them.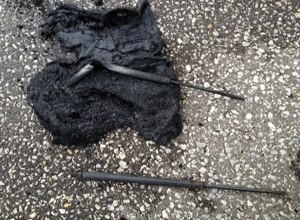 Request product info from top Fire Stabilization and Lifting Equipment companies
Thank You!