NIOSH: Bus killed Ill. firefighter despite traffic safety markers
The bus also struck several emergency cones and an apparatus parked at the scene
---
By Ken Robinson
FireRescue1 associate editor
BENTON, Ill. — A firefighter was struck and killed when a bus driver failed to avoid parked emergency vehicles despite traffic safety markers, investigators found.
James Miller, of the Sesser Fire Protection District, Illinois, was clearing the scene of a tractor trailer fire along an interstate highway when he was struck by the bus on July 27, 2007.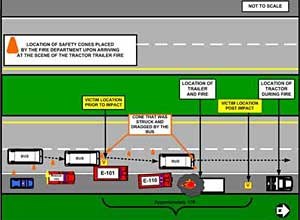 The bus also struck several emergency cones and an apparatus parked at the scene, despite an illuminated directional arrow and flashing emergency lights, according to a NIOSH report released Monday.
While the report identified the bus driver's actions as the primary cause of the incident, investigators recommend fire departments avoid similar incidents with upstream traffic control and reflective materials for apparatus and firefighter apparel.
"It is possible that an upstream police vehicle could have alerted the bus driver or warned the victim, or a properly positioned highway department truck that was equipped with a large flashing directional arrow and truck mounted attenuator could have absorbed the impact of the bus prior to striking the victim," the report said.
During the incident, the nearest law enforcement unit was approximately one hour away from the scene, according to investigators.
The report also found that firefighters at the scene of the truck fire were not wearing retro-reflective vests.
"All responders who are not involved in fire suppression activities should be wearing ANSI approved high visibility garments when working near moving traffic and don the retro-reflective vests during scene clean-up following extinguishment," the report recommends.
The apparatus struck by the bus also did not have retro-reflective markings and investigators suggest fire departments improve vehicle visibility as much as possible.
"NFPA 1901 applies to newly manufactured apparatus and is not retroactive," the report said. "In many cases it can be cost effective and easy to retrofit existing vehicles to improve fire fighter emergency work zone safety."
The report made the following full list of recommendations to limit the chances of similar incidents:
• Establish pre-incident plans regarding traffic control for emergency service incidents and pre-incident agreements with public safety agencies, traffic management organizations, and private sector responders
• Develop all-inclusive standard operating procedures (SOPs) for responding to highway incidents with specific guidance on positioning apparatus to protect emergency workers from oncoming traffic when entering or exiting parked vehicles, working pump panels, and retrieving or replacing equipment from apparatus storage areas
• Ensure that high visibility chevrons and reflective markings are applied to all apparatus to enhance conspicuity while parked at emergency scenes and during emergency response
• Ensure that SOPs include guidance on establishing advance warning and transition areas, and consider the use of an upstream monitor for highway-related incidents
• Ensure that firefighters wear suitable high-visibility retro-reflective apparel while working non-fire emergency scenes near moving traffic