Emergency vehicle preemption devices showcased at FRI
With its most recent innovations, Global Traffic Technologies is aiming to make responses safer
---
By Jamie Thompson
FireRescue1 Senior Editor
While 2009 saw the lowest number of firefighter line-of-duty deaths in more than 15 years, some trends remained the same.
Vehicle collisions were the second biggest cause of fatal injuries at nearly 17 percent, behind stress/overexertion.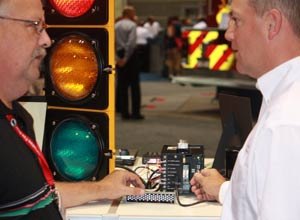 The measures firefighters can take to make responses safer are obvious and well-documented — seat belt use for starters.
But advances in technology can play a leading role in helping to ensure crews get to the scene both as quickly and safely as possible.
At Fire-Rescue International in Chicago, the market leader in emergency vehicle preemption devices showcased its latest technology.
Different benefits
With its most recent innovations, Global Traffic Technologies aims to continue to enhance multi-agency cooperation, improve evacuation logistics, reduce response times and increase safety with its Opticom Priority Control Solutions.
"The fire service has been evolving over the past 15 to 20 years with technology being one of the biggest reasons, and in this case this technology is helping to reduce our risks from roadway accidents," Chief Shawn Murray, of the Hudson, N.H., Fire Department, said.
The department has been using Opticom technology for several years, according to Chief Murray.
"Before we began using the systems, there were a lot of times that we found it very difficult to get apparatus to emergencies at particular times of the day," he said.
"It's been of great help to us and allows us to respond to an emergency more safely, benefitting both public safety agencies and the public."
Technology highlighted by GTT at FRI included Opticom Central Management Software, which is described as a scalable solution that centralizes priority control, aiming to improve system performance, support inter-agency cooperation, validate return on investment and streamline maintenance.
A new "evacuation planning" module for the software has been designed to enable rapid evacuations; in crisis/special-event situations, transit vehicles are allowed to temporarily preempt signals while maintaining precedence of emergency vehicles.
"We have been a leader in the industry for nearly 40 years now and emergency agencies continue to turn to GTT and Opticom in record numbers because of our unsurpassed reliability and performance, and constant customer driven innovation" GTT President Rick Sachse said.
Real-time monitoring
Sachse said the Central Management Software offers a range of benefits to those using Opticom systems such as managing intersection and inventory information, the ability to complete maintenance reviews without needing to physically travel to the locations and monitor activity and performance indicators in real time.
At the conference, the company also displayed new "multimode technology" capabilities for its priority control systems, which support both its infrared and GPS devices. Aimed at enhancing safety during mutual aid responses, it is able to adapt to each district's traffic infrastructure.
"The priority in the fire service now is health and safety, and is something we have been heading toward for several years now," Chief Murray said.
"Everyone is working to reduce firefighter deaths and injuries, so anything we can do to reduce accidents and people getting hurt is well worth the investment."
Global Traffic Technologies (GTT) is dedicated to providing the latest technology advancements on a mission to make roadways safer and more efficient. You can find them on the web at www.gtt.com/.