Union: Kansas City firefighter involved in crash that killed 3 should get job back
Union officials allege the city did not conduct a disciplinary investigation before it sought to have Dominic Biscari terminated following the fatal incident
---
By Glenn E. Rice
The Kansas City Star
KANSAS CITY, Mo. — A Kansas City firefighter who pleaded guilty to three counts of involuntary manslaughter in a 2021 crash in Westport that killed three people wants his job back.
Dominic S. Biscari, who was driving the truck that struck a car with two people inside, killing them and a pedestrian, was placed on probation for three years after his plea in February.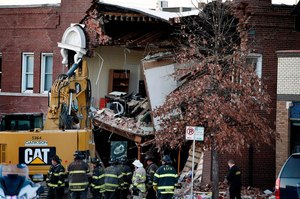 The fire department said at the time that Biscari, 22, had been placed on unpaid leave and that it was seeking termination.
On Tuesday, the International Association of Fire Fighters, Local 42, which represents Kansas City firefighters, EMTs and other medical personnel, filed a grievance on behalf of Biscari.
Union officials alleged that the city violated various provisions in its collective bargaining agreement as well as KCFD rules, policies and practices. They said the city did not conduct a disciplinary investigation before it sought to have Biscari terminated.
Kevin Regan, an attorney who represented Biscari in his criminal case, said his client should be reinstated and allowed to return to his job as a firefighter.
"Dominic worked hard to become a community servant and to serve our community as a firefighter," Regan told The Star. "He earned the right to serve our community. The city is now wrongfully trying to take that right away from him.
---
Related news
---
"Every night Dominic has been asked to answer the bell for folks in need. He answered the bell. And the city has failed to answer the bell for Dominic and his fellow firefighters and they know it."
Biscari was driving a Kansas City Fire Department truck on Dec. 15, 2021, when it struck a Honda CRV at the intersection of Westport Road and Broadway Boulevard. The force of the crash propelled the vehicles northwest, causing them to hit a pedestrian before slamming into a building.
Jackson County prosecutors said the truck driven by Biscari was going 51 mph in a 35 mph zone and had a red light at the time of the crash.
Michael Elwood and Jennifer San Nicolas, who were in the Honda, and Tami Knight, the pedestrian, were killed. San Nicolas and Elwood worked at the restaurant Ragazza and Knight was a Kansas City Public Schools employee.
Tim Dollar, who represented Elwood's family, declined to comment.
In their grievance, the union said that on the day of the plea hearing, KCFD released a statement to the news media that it was seeking to terminate Biscari. They said Biscari did not receive a formal letter from fire officials that he had been suspended and faced termination.
Several days after the Feb. 21 hearing, Local 42 president Dan Heizman received an email from Jean Young, an assistant to the fire chief. The email informed the union that Biscari had been suspended without pay as a result of being charged with three felony counts of involuntary manslaughter, according to the grievance.
By the following Sunday, Feb. 26, Biscari still had not received his suspension and showed up to work for his regular shift. He was told by a fire company officer that he had been suspended without pay and the fire department was moving to have him terminated. Biscari went home.
The union said it would seek to have an arbitrator determine whether Biscari should return to work. They have asked that Biscari be awarded back pay.
After the crash, Regan had said the city can install receivers at intersections to receive signals from fire trucks that prompt the traffic lights to change. He said receivers had not been installed at that intersection.
The city has known for years that the Westport intersection is dangerous, Regan said. The department also failed to provide adequate training to Biscari on driving a pumper truck.
Additionally, Biscari's attorneys said he was not made aware of a prior complaint about his driving. In September 2021, a medic told supervisors that she feared for her life after being in an ambulance with Biscari as he was speeding.
Several lawsuits were filed in the aftermath of the Westport crash and last month Kansas City agreed to pay more than $1.3 million to family members of the victims.
©2023 The Kansas City Star.
Visit kansascity.com.
Distributed by Tribune Content Agency, LLC.
McClatchy-Tribune News Service