Utah firefighter injured by blocking engine when pickup strikes it amid fog, ice
Cache County Fire District members, state troopers and EMS providers were responding to three other crashes at the time
---
By Leila Merrill
FireRescue1/EMS1
RICHMOND, Utah — A Cache County Fire District firefighter was injured Monday morning. A Ford pickup hit a parked fire engine amid heavy fog and icy roads, the Cache Valley Daily reported.
Utah Highway Patrol Sgt. Cade Brenchley said first responders were responding to three separate crashes near 11600 North US-91.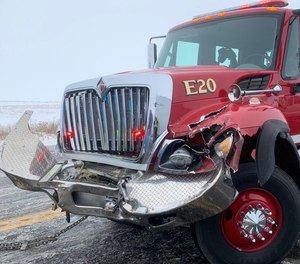 Cache County Fire District said that the engine was blocking traffic to protect the scene of a crash as EMS providers and firefighters were extricating a motorist.
Two other people were injured in addition to the firefighter, but none of their injuries were life-threatening.
---

Read next
Blocking apparatus: Are attenuating units the next must-have apparatus type?
More and more fire departments are adding blocking units to protect emergency scenes