3 US firefighters killed in plane crash fighting Australia wildfires
The plane was carrying retardant for an aerial firefighting mission when it crashed, killing all on board
---
By Laura French
AUSTRALIA — Three American firefighters battling Australian wildfires were killed Thursday in a plane crash during an aerial firefighting mission.
The fallen firefighters have not yet been identified but were confirmed by officials to be U.S. residents working for Canada-based aerial firefighting company Coulson Aviation.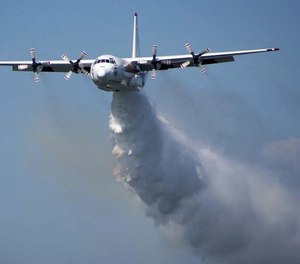 "While working in the Snowy Monaro Area in southern NSW (New South Wales), Australia contact was lost with one of our large airtankers, a Lockheed C-130," a Coulson Aviation statement said. "The aircraft had departed Richmond, New South Wales, with a load of retardant and was on a firebombing mission. The accident is reported to be extensive and we are deeply saddened to confirm there were three fatalities."
The cause of the crash has not yet been identified, and is under investigation by the Australian Transport Safety Bureau and New South Wales police, according to the Associated Press.
"The only thing I have from the field reports are that the plane came down, it's crashed and there was a large fireball associated with that crash," said Rural Fire Service Commissioner Shane Fitzsimmons.
Coulson grounded its other aircraft as a precaution following the crash.
Australia's Foreign Minister Marise Payne expressed condolences to U.S. Ambassador Arthur Culvahouse Jr.
"Our hearts go out to their loved ones. They were helping Australia, far from their own homes, an embodiment of the deep friendship between our two countries," Payne said in a statement. "Thank you to these three, and to all the brave firefighters from Australia and around the world. Your service and contribution are extraordinary. We are ever grateful."