Grand jury indicts man in Cleveland firefighter's death
Leander Bissell is accused of murdering Johnny Tetrick and faces five other charges; he may be sentenced to 15 years to life in prison if he is convicted
---
By Shelley Terry
Star Beacon
CLEVELAND — A Cuyahoga County grand jury has indicted a Cleveland man in the death of Johnny Tetrick, a firefighter originally from Geneva.
The grand jury indicted Leander Bissell, 40, in the death of the firefighter on charges of murder, felonious assault, involuntary manslaughter, failure to comply, failure to stop after an accident and aggravated vehicular homicide.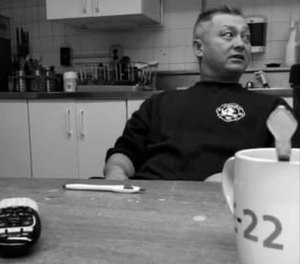 Bissell could face 15 years to life in prison if he is convicted of the murder charge.
Tetrick, 51, a 27-year veteran of the Cleveland Fire Department, was working on Nov. 19 at the scene of a motor vehicle accident on I-90 near the Martin Luther King exit.
At about 8:15 p.m., he was struck by a vehicle that went around emergency vehicles, according to a Facebook post from Cleveland Fire Fighters IAFF Local 93.
Tetrick died at a hospital. He was a 27-year veteran of the fire department.
The driver who struck Tetrick fled the scene, but firefighters gave police a description of the vehicle — a white Chevy Malibu with front-end damage.
Bratenahl police officers caught up with a suspect — Bissell — around 1 a.m. Nov. 20, according to reports.
---

Read next
Ohio Senate rejects bill with new penalties for drivers who kill firefighters, EMS providers
But House and Senate members may work together to alter the legislation prompted by a Cleveland firefighter's death
---
At Bissell's initial court appearance, a judge set bail at $500,000, according to court records.
Tetrick, a graduate of Geneva High School, was the father of three girls.
___
(c)2023 the Star Beacon (Ashtabula, Ohio)
Visit the Star Beacon (Ashtabula, Ohio) at www.starbeacon.com
Distributed by Tribune Content Agency, LLC.
McClatchy-Tribune News Service